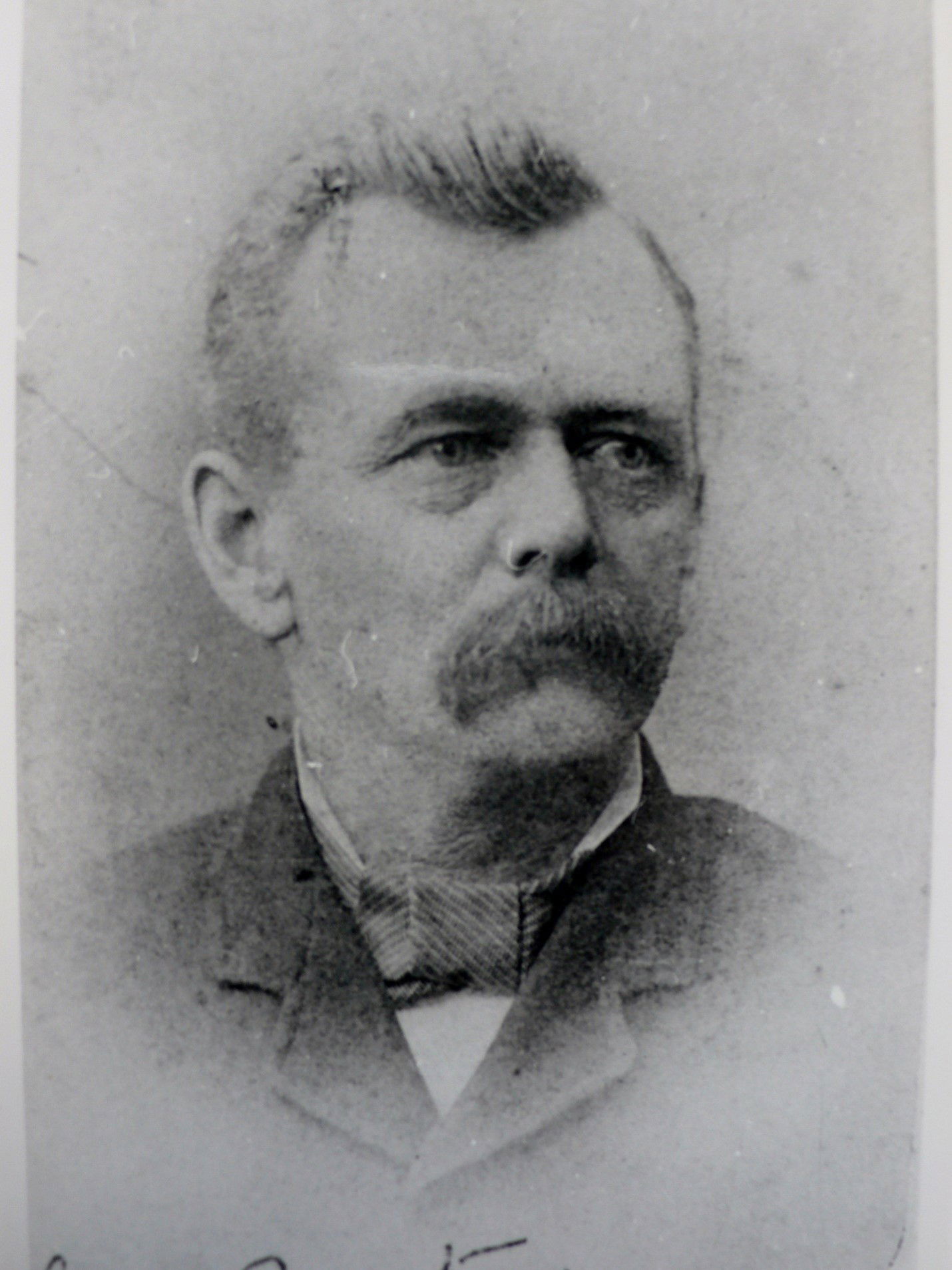 Charles (Charlie) T. Baxter was born in Binghamton, NY to Stephen Baxter, Jr. and Dobia Taylor. He grew up in Binghamton and Staten Island, NY, before coming to Mechanicsburg in 1855 with his parents. He married Esther Buffington of Mechanicsburg in 1859 and was employed as a builder and contractor. With the outbreak of the Civil War, he joined the famous "Squirrel Hunters" of Ohio in the fall of 1862. His father, Stephen Baxter, Jr., had already been killed in action at Fort Republic, VA in June of 1862. When Confederate forces threatened Cincinnati in 1862, Governor David Tod of Ohio issued a call for civilian volunteers to come to Cincinnati's defense, because most of Ohio's soldiers were engaged elsewhere. Almost 16,000 volunteers from sixty-five counties responded and found their way to defensive positions near Cincinnati. They wore civilian clothes and carried weapons ranging from horse pistols to squirrel guns. They were called the Squirrel Hunters because most were farm boys who didn't have to shoot twice to hit a squirrel. After the Confederate forces first appeared, they quickly disappeared and the volunteers returned home. In February 1864, he enlisted in Company K, 113th Ohio Volunteer Infantry, made up mostly of Champaign County men. The 113th OVI was assigned to the main forces of General William T. Sherman and was involved in action against the Confederates in Tennessee, Georgia and Alabama, and North and South Carolina. Charlie Baxter experienced all the horrors of war, which only a soldier could know. He saw action in Nashville, Chickamauga, Chattanooga, Missionary Ridge, Jonesboro, and Sherman's March to the Sea, and the subsequent actions with the Confederate General Johnston as his army retreated north through the Carolinas. Charlie was promoted to Sergeant in early 1864. He was wounded at Jonesboro, but quickly recovered. At the battle of Kennesaw Mountain, his half-brother William H. Baxter, lost a leg at "Bloody Angle", and Charlie and his brother-in-law, Harrison (Harry) Shepherd, looked after him in the field hospital. In April of 1865 they learned of Lee's surrender to General Grant at Appomattox, Virginia which was received with great jubilation by the troops. A few days later, President Abraham Lincoln was assassinated and an aura of gloom and mourning hung over the Army. It was not until some two weeks later that General Johnston finally surrendered his forces to General Sherman in North Carolina.
Sherman's Union Forces were then ordered to march to Richmond, Virginia, the seat of the Confederacy, and then on to Washington, D.C. to participate in the Grand Review through the streets of Washington before thousands of admiring citizens and government dignitaries. It was an experience never to be forgotten. In early May, the 113th O.V.I. boarded a train for Louisville, Kentucky and mustered out of the regiment on July, 6, 1865 and Charlie Baxter returned to his family in Mechanicsburg.
Following the war, Charlie Baxter served the community in a number of positions. He was elected and served some four terms as justice of the peace. He was postmaster from 1890 to 1894. Possessed of an excellent legal mind, his opinion was sought by many in Mechanicsburg and the county. He was a charter member of the Grand Army of the Republic (GAR), Stephen Baxter Post #88, named in honor of his father, and was past commander of the post. He and his wife Esther and family resided on N. High Street, next to his step mother, Lucy Baxter, and across from the school. He died suddenly in 1899. His funeral services were carried out by GAR Post #88 and he was buried in Maple Grove Cemetery in Mechanicsburg, Ohio.
Many of Charles T. Baxter's immediate family on his Baxter side were volunteers in the Civil War who he knew imminently and some of whom he served with. They were:
Stephen Baxter, Jr. (1811-1862), his father. 66th Ohio Volunteer Infantry
William Henry Baxter (1843-1907), his brother. 66th & 113th Ohio Volunteer Infantry
Christopher Baxter (1838-1864), his brother. 66th Ohio Volunteer infantry
William Edwin Baxter (1840-1897), 1st cousin. 66th Ohio Volunteer Infantry
Horatio Nelson Benjamin (1829-1879), 1st cousin. 113th & 185th Ohio Voluntary Infantry
Harrison W. Shepherd (1835-1898), husband to sister Maria Baxter, 113th Ohio Volunteer Infantry
John R. Rogers (1842-1909), 1st cousin, 113th Ohio Volunteer Infantry
Versalius Horr (1825-1885), husband to Aunt Abigail Baxter, 66th Ohio Volunteer Infantry
Philander R. Owen, husband to Aunt Amelia Baxter, Indiana 4th Infantry
Sources
A History of the One Hundred and Thirteenth Ohio Volunteer Infantry. By F. M. McAdams, Richwood, Ohio. Chas. M. Cott & Co., Columbus, Ohio 1884
A Light & Uncertain Hold, A History of the Sixty-Sixth Ohio Volunteer Infantry. David T. Thackery. The Kent University Press, Kent, Ohio & London, 1999
Official Record of Sergeant Charles T. Baxter, Military Service Records (NNCC), National Archives, Washington, D.C.
Obituary of Charles T. Baxter, Mechanicsburg Telegram, February 8, 1899
A History of Our Family, Neal Robb Baxter, 2003, Minneapolis, MN
Took a Notion, The Civil War Diaries of William Henry Baxter of Mechanicsburg, Ohio, Anne Baxter Knutson & Neal Baxter, 1995, Minneapolis, MN
"Squirrel Hunters", Ohio History Central, Ohio History Connection (formerly Ohio Historical Society), Columbus, Ohio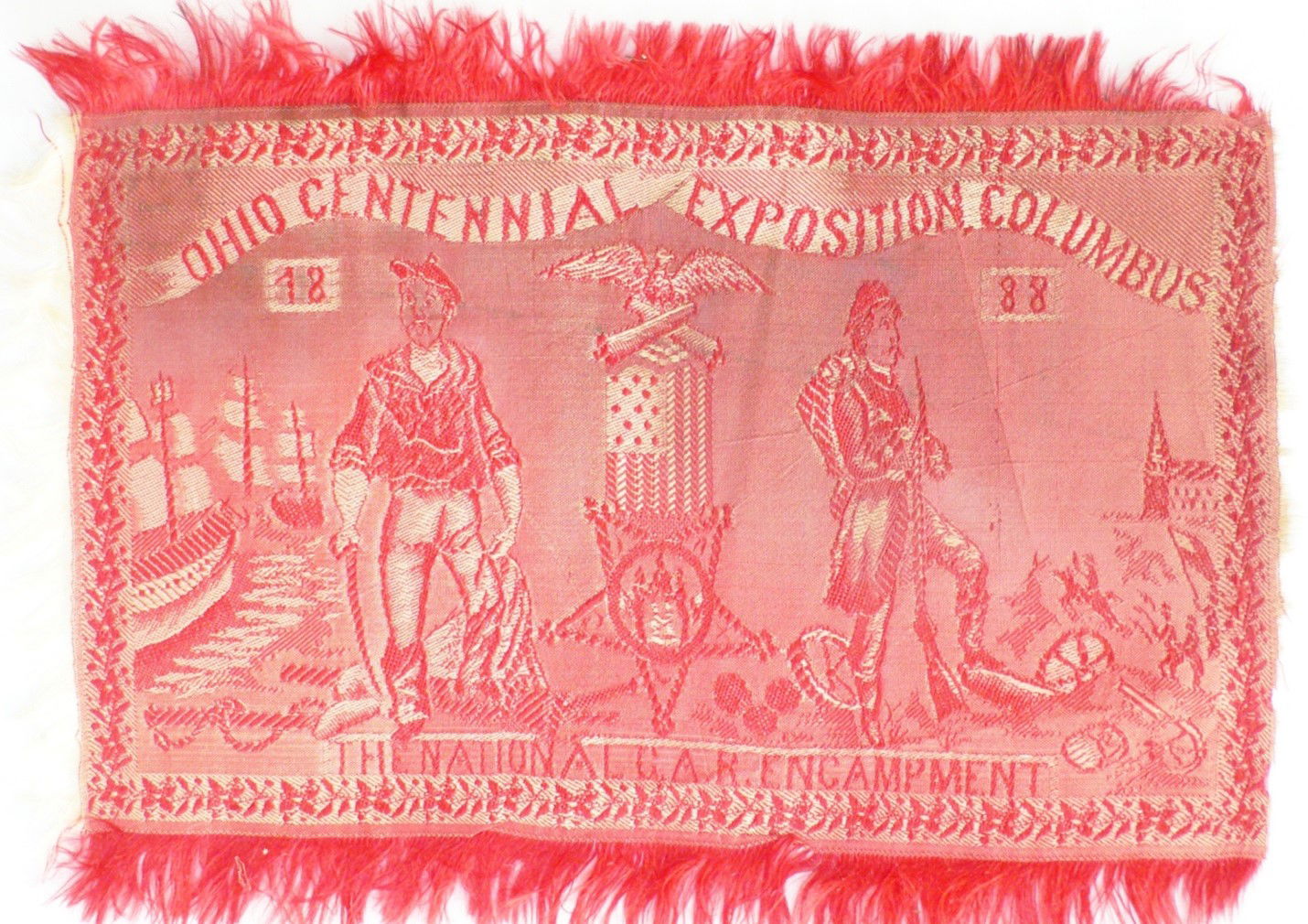 Grand Army of the Republic Banner From the 1888 Encampment in Columbus, Ohio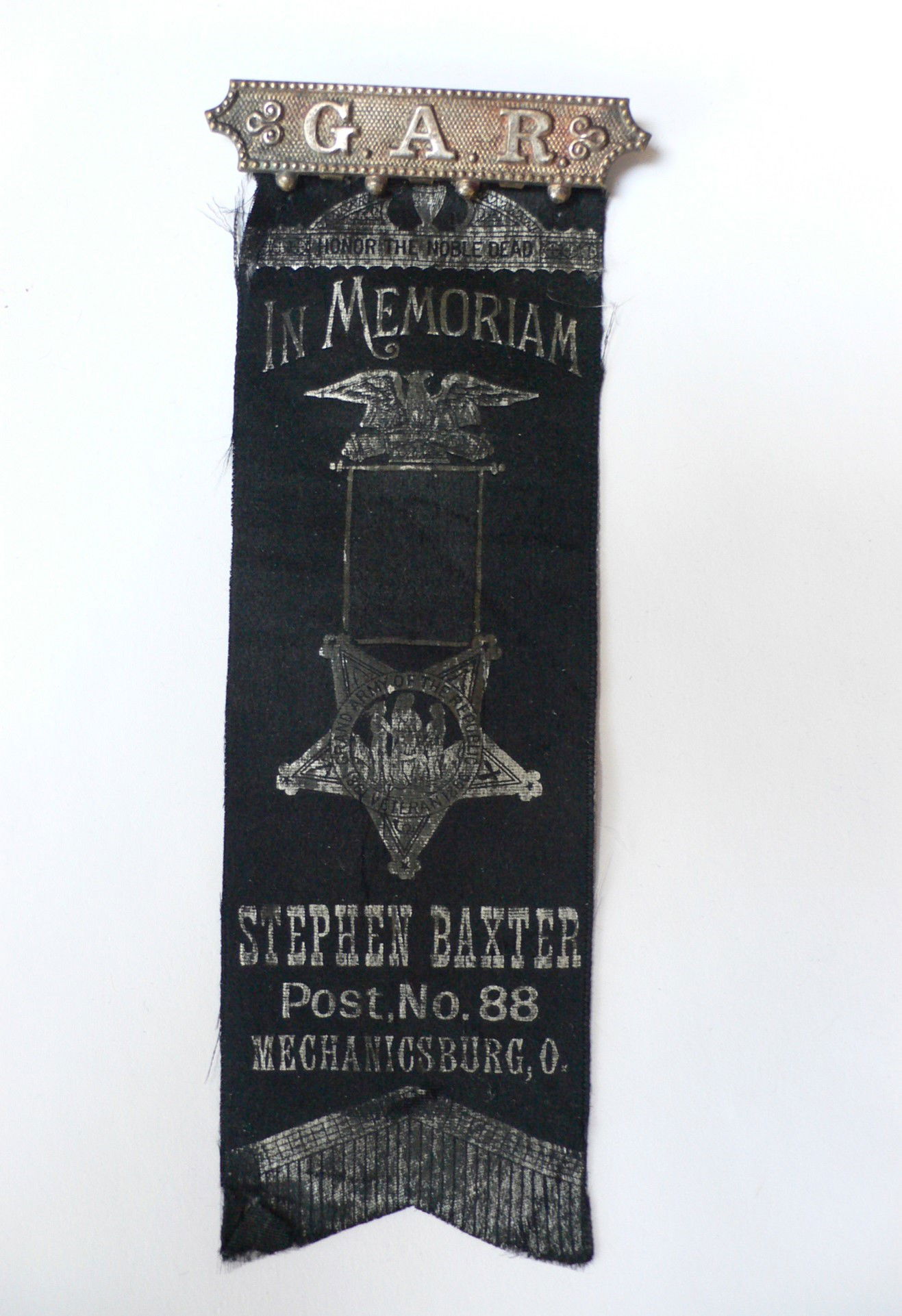 ---
If you think this Union Civil War Veteran might also be in your family tree, please email ancestors@suvpnw.org and we will be happy to put you in contact with the author of this biography.
Notice: The information in the biography above has been researched and provided by the author and has not been verified by the SUVCW or the ASUVCW.