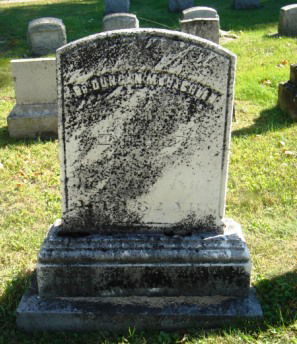 Duncan McLachlen Jr. was born into a large family of 10 children of Duncan and Catherine (Keith) McLachlen on 29 Jan 1832 in Caledonia, Livingston, New York. His parents were from Argyllshire, Scotland. They immigrated to New York City in 1804 and eventually settled in the former Scottish-American settlement of Southampton, New York, later renamed Caledonia. The town of Caledonia and several other neighboring villages were settled by mainly poor, but hardy, Scottish immigrants on vast land holdings obtained by the Holland Land Company after the American Revolutionary War. Little is known about Duncan's early life.
Duncan studied medicine and took his medical training with Dr. Chamberlain, of LeRoy, Genesee, New York. After he graduated from the Buffalo Medical College, Dr. Duncan McLachlen was commissioned into the Union Army on 8 Dec 1862 and was appointed Assistant Surgeon of Company S, 33rd Infantry Regiment New York. The 33rd Regiment, New York Infantry was active in a series of engagements: The Battle of Fredericksburg, Virginia December 12-15, "Mud March" January 20-24, 1863, Falmouth Hill April 27, Chancellorsville Campaign April 27-May 6, Operations about Franklin's Crossing April 29-May 2, Maryes Heights, Fredericksburg, May 3, Salem Heights May 3-4, and Banks' Ford May 4th
Dr. McLachlen was mustered-out of service on 2 Jun 1863 at Geneva, Ontario, New York when his regiment was disbanded. During his time out of service, Duncan married Susan J. Baldwin on 16 Jun 1863 in Riga, Monroe, New York.
Dr. McLachlen asked for appointment to one of the newly forming Colored Regiments being raised in Baltimore, Maryland. He was refused, being told that there were not enough white officers to warrant a surgeon. He was offered a position with the rank of Major with the N.Y. 151st but declined, and insisted upon the posting where he felt "his training would be of more use". He was appointed "At the Presidents Order" as Major with the 39th US CT in March of 1864 and was promoted to the rank of full surgeon. The following is the military engagements of the 39th Regiment, United States Colored Infantry during Dr. McLachlen's service: Campaign from the Rapidan to the James River, Va., May-June, 1864. Guard trains of the Army of the Potomac through the Wilderness and to Petersburg. Before Petersburg June 15-19. Siege of Petersburg and Richmond June 16-December 7. Mine Explosion, Petersburg, July 30.
Tragically, Dr. Duncan McLachlen's life and promising medical career was cut short when he contracted typhoid fever and died at Armory Square Hospital in Washington D.C. on Aug 17, 1864. Duncan McLachlen's remains were brought back to Caledonia by his younger brother Corporal James McLachlen, who also was serving in the Union Army, and were buried in Mumford Rural Cemetery in Mumford, Monroe, New York.
In 1997, Dr. Duncan McLachlen's name was engraved on the 39th US Colored Troops Regiment plaque number C-54 located along the walkway which surrounds the 9-foot bronze sculpture, The Spirit of Freedom as a lasting tribute to his service and to his country.
---
If you think this Union Civil War Veteran might also be in your family tree, please email ancestors@suvpnw.org and we will be happy to put you in contact with the author of this biography.
Notice: The information in the biography above has been researched and provided by the author and has not been verified by the SUVCW or the ASUVCW.