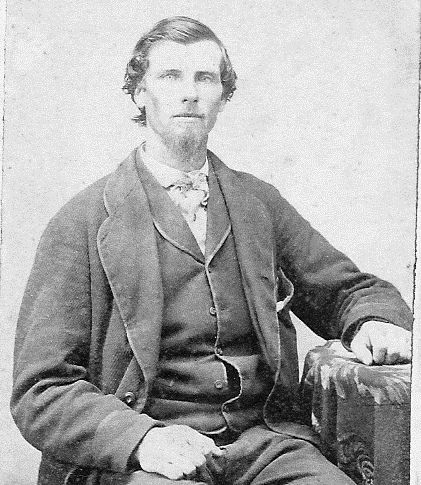 Fayette "Fet" Nelson was one of the last surviving Civil War veterans to die at Gettysburg National Military Park. Uncle "Fet" died 9 Jul 1938 at the age of 95 during the 1938 GAR Reunion commemorating the 75th anniversary of the battle in the company of his most honored elderly CW veteran comrades. Though he passed-away at Gettysburg there is no evidence that he actually fought during the Battle of Gettysburg in 1863.
Fayette Nelson was born 18 August 1842 in Mundy Township, Genesee, Michigan. He was the youngest son in the family of six children of Nathaniel and Clarissa (Lathrop) Nelson. Fayette enlisted as a private in the Union Army Company B, 1st Engineers Regiment Michigan on 24 Dec 1863. This was the same military unit that his older brother David enlisted in two years prior. Fayette served as an artificer during his service until he was mustered out on 22 Sep 1865. Fayette and David had another brother Melvin who also served during the Civil War. As an artificer, Fayette was responsible for the repair and maintenance of mechanical equipment. During the war the 1st Engineers Regiment of Michigan participated in a number of military engagements, including the Siege of Corinth, April 29-May 30, 1862, Battle of Perryville, October 8, 1862, and the Battle of Bentonville, March 19-21, 1865.
After the war, Fet used his artificer skills to work on a railroad in Missouri. There he met and married Clarinda Chase on 15 Feb 1868 in Jasper, Missouri. The couple had three children. He eventually moved to Kansas to raise his family and live on a farm. Later, Fet and Clarinda divorced and Fet married several more times. Fet outlived all his wives during his long life, Fet Nelson was a long-time member of the GAR and was a member of at least three GAR posts: #339 Thayer Post in Thayer, Neosho, Kansas, #142 Hackleman Post in Cherryvale, Montgomery, Kansas, and the Joseph Rice Post #71 in Topeka, Shawnee, Kansas. Fet served as the post commander in the # 339 Thayer Post.
Fet moved, along with his older brother David, to Pasadena, Los Angeles, California to join their brother Melvin who had moved there some years before. One of Fet's daughters Ella N. Sams (1869-1964) accompanied her father during the 1938 GAR encampment and was present when he passed-away. Fet was residing in Pasadena, California at the time where he had long retired as a farmer and gardener. Fet Nelson was buried in Mountain View Cemetery in Altadena, California, as were his two older brothers David and Melvin who preceded him. Fet must have been proud of his Civil War service because he was given a unique white marble headstone with Fayette Nelson Artificer 1st Mich Engrs and Mech engraved on it.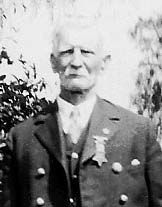 Fayette Nelson in later years wearing his G.A.R. medal.
---
If you think this Union Civil War Veteran might also be in your family tree, please email ancestors@suvpnw.org and we will be happy to put you in contact with the author of this biography.
Notice: The information in the biography above has been researched and provided by the author and has not been verified by the SUVCW or the ASUVCW.