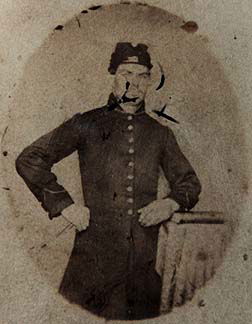 Carl Friedrich "Fritz" Kudebeh was born 9 Apr 1839 in Wendisch Musta, Silesia, Prussia in a family of six children. His parents Johann Michial and Anna "Hubatsch" Kudoweh immigrated with their family to New York City in 1852. The family shortly settled in Franklin Township, located outside Fort Madison, Lee, Iowa. After arriving in the US, the spelling of the original Kudoweh surname was changed to Kudebeh and Kudobe. Descendants of these families still reside near Fort Madison.
Frederick Kudebeh enlisted in the Union Army as a private on 20 Dec 1861. He served in Company K, 16th Infantry Regiment Iowa and died from a severe battle injury sustained during the Battle of Shiloh on April 6-7, 1862 in Hardin County, Tennessee. Fritz Kudebeh suffered a very curious lingering death. While fighting in battle he was shot by a rifle bullet in the forehead from which over time he appeared to be recovering from. In fact, he was conscious much of the time, was able to walk, and even write a series of letters to his older brother Reverend Ernst Kudobe of Dubuque, Iowa clearly describing his military experience before, during, and after his battle wounding during his slow recovery. Copies of Fritz's letters to his brother exist and were translated from their original German language for the benefit of his family descendants. They serve as important historical testament about Fritz's bravery and positive spirit. In one of his letters, Fritz even mentions anticipating the start of the Siege of Corith on April 29-30, 1862. Tragically, Fritz Kudebeh succumbed to his injury in a field hospital in Corinth, Alcorn, Mississippi on 22 Jun 1862.
Fritz's untimely death must have been a terrible blow to his parents and siblings. All that survives from Fritz are a series of letters and an engraved whiskey flask that is supposedly in possession of one of his direct family descendants. Frederick "Fritz" Kudebeh was buried in the Corinth National Cemetery, Corinth, Mississippi Section A, grave 176.
Fritz's letters to home, along with translations, are attached below.
---
If you think this Union Civil War Veteran might also be in your family tree, please email ancestors@suvpnw.org and we will be happy to put you in contact with the author of this biography.
Notice: The information in the biography above has been researched and provided by the author and has not been verified by the SUVCW or the ASUVCW.