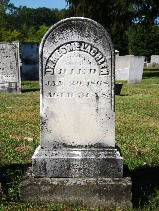 James McLachlen was the younger brother of Dr. Duncan McLachlen. James McLachlen was born 12 Jul 1836 in Caledonia, Livingston, New York in the Scottish-American family of Duncan and Catherine (Keith) McLachlen. Little is known about the childhood of James, or of most of his nine siblings.
James McLachlen enlisted on 31 Aug 1862 as a corporal in the Union Army. He served in Company I of the 151st New York Infantry. James served until he was mustered-out and transferred to Company 12th, 2nd Battalion Regiment U.S. Veteran Reserve Corps on 1 Oct 1864. James was discharged on 30 Jun 1865 at Washington, DC.
During his time in service the 151st New York Infantry was very active and participated in the following engagements: Duty at Baltimore, Md., till April 22, 1863, and in the Middle Department till June. At South Mountain, Md., till July. Gettysburg (Pa.) Campaign. Pursuit of Lee to Manassas Gap, Va., July 5-24. Wapping Heights July 23. Duty on line of the Rappahannock and Rapidan to October. Bristoe Campaign October 9-22. McLean's Ford October 15. Advance to line of the Rappahannock November 7-8. Kelly's Ford November 7. Mine Run Campaign November 26-December 2. Payne's Farm November 27. Mine Run November 28-30. Demonstration on the Rapidan February 6-7, 1864. Campaign from the Rapidan to the James May 3-June 15. Battles of the Wilderness May 5-7; Spottsylvania May 8-12; Spottsylvania Court House May 12-21. Assault on the Saiient, "Bloody Angle," May 12. North Anna River May 23-26. On line of the Pamunkey May 26-28. Totopotomoy May 28-31. Hanover Court House May 31. Cold Harbor June 1-12. Before Petersburg June 17-18. Siege of Petersburg June 17 to July 6. Jerusalem Plank Road, Weldon Railroad, June 22-23. Moved to Baltimore, Md., thence to Frederick, Md., July 6-8. Battle of Monocacy July 9. Sheridan's Shenandoah Valley Campaign August 7-November 28. Battle of Winchester September 19. Fisher's Hill September 22. Battle of Cedar Creek October 19. Duty at Kernstown and Winchester till December. Moved to Washington, D. C., thence to Petersburg, VA.
After James McLachlen's discharge sources mention that his health was so negatively affected by his Civil War service that it caused his early death at the age of 31 on 20 Jan 1868 in Caledonia. James McLachlen was buried in Mumford Rural Cemetery in Mumford, Monroe, New York near the graves of his parents and his brother Dr. Duncan McLachlen, who also was a victim of his Civil War service. Thus, James made the ultimate sacrifice for his country.
---
If you think this Union Civil War Veteran might also be in your family tree, please email ancestors@suvpnw.org and we will be happy to put you in contact with the author of this biography.
Notice: The information in the biography above has been researched and provided by the author and has not been verified by the SUVCW or the ASUVCW.