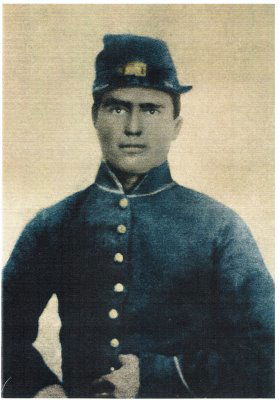 Michael was born in Birlenbach, Bas-Rhin, Alsace, France on September 28, 1825 to Michel (b. 1803) and Madeleine (Becker) Gassmann. Michael's birth certificate was written in French and it lists his father's employment as a "Cultivateur" which was interpreted by a modern day Frenchman as meaning he probably kept a vineyard. According to his Naturalization Application Michael said he arrived in the U.S. on Oct. 1, 1847 and Michael married Mary Threne on Nov. 1, 1848 and they settled on a farm near Collins, Erie County, NY. Mary is believed to have been born in Homberg in the German state of Hessen on Dec. 3, 1820.
On August 6th 1863, Michael went to Dubuque and enlisted in Company G (1st Battalion) of the 8th Iowa Volunteer Cavalry. He said he was 38 years old at the time and his children's ages were: Elizabeth 15, Helena 13, Michael 12, Rachel 10, and Peter was 6. When Michael signed up, he received a $25 bounty, $2 for signing, and a $13 advance on his first month's pay. He is listed as being 5'8 1/2" in height with grey eyes and dark hair.
On July 27, 1864 Michael and three hundred and sixteen officers and men of his regiment started out on what became known as the "McCook Raid" south of Atlanta. They were met by enemy cavalry and a severe engagement ensued, in which the Eighth Iowa Cavalry lost between twenty and thirty, killed and wounded and all but twenty were captured.
Michael was among those who were captured and sent to Andersonville Prison. Many books have been written about the conditions at that "infamous" prison and the effects it had on the men who were held captive there. A letter written by Sgt. Washington Tharp that stated: "…that I was a sergeant in Company G, 8th Iowa Cavalry; that I was well acquainted with Michael Gassmann of the same company and Regiment; that we were both captured on the thirtieth day of July 1864 about 30 miles southeast of Atlanta and taken from there to Andersonville Georgia; that whilst at Andersonville said Gassmann contracted the chronic diarrhea and was very low all the time whilst in that prison…from Andersonville we were both removed to Florence, South Carolina. Gassmann was hardly able whilst at this…place to get around".
By February of 1865, Michael's condition worsened and Sgt. Tharp said that "about this 20th of February, 1865 we were taken to Wilmington (NC) to be exchanged, as our forces were attacking the city we were sent to Goldsborough (NC). Gassmann was still with us but not able to help himself and could scarcely eat anything. The 3rd of March, 1865 we were paroled and sent back to Wilmington for a final exchange; Gassmann was lain by my side where he remained for about two days. I was sick at the time. I crawled to him and spread his bread, and tried to get him to eat or drink but he was too weak. Whilst I was asleep he was moved and upon my making inquiry the next morning the nurses told me he was removed to another hospital. I have no doubt but what Gassmann died that night. I never saw him afterwards and never heard from him since he was carried from the hall."
It is believed that Michael was buried in what is now the National Cemetery in Wilmington, North Carolina along with over 2,000 other unknown Union Soldiers.
In November of 2003 a memorial stone was installed next to Michael's wife in the German Pilgrim Congregational Cemetery in Sherrill, Iowa.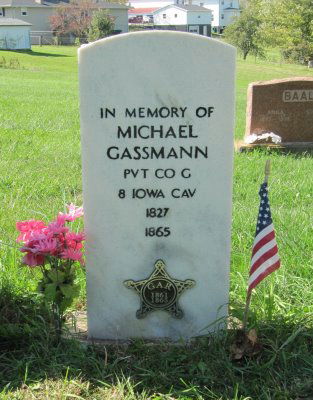 ---
If you think this Union Civil War Veteran might also be in your family tree, please email ancestors@suvpnw.org and we will be happy to put you in contact with the author of this biography.
Notice: The information in the biography above has been researched and provided by the author and has not been verified by the SUVCW or the ASUVCW.