Volney Orinn Knapp Shelley was born 5 May 1830 in Chautauqua, NY to Abraham Shelley (1782-1867) and Irene Knapp (1792-1858). They were a farming family and moved west to Brookfield, WI in the early 1840's. On 23 Dec 1847 (age 17), Volney K. Shelley married his first wife, Catherine Ann Deming (1830-1848), in Washington County, Wisconsin. Catherine passed away the following year on 11 Oct 1848. On 5 Oct 1850 in Center, WI, Volney married his second wife, Mary Elizabeth Deming (1836-1898), who was Catherine's younger sister. Volney and Mary had several children: Caroline, LaFayette, Mary Ann, Olive, Charles, Simon, Samuel, Sena, Abigail, Ernest, Purley, and Alice.
Marriage Log, 1st Marriage: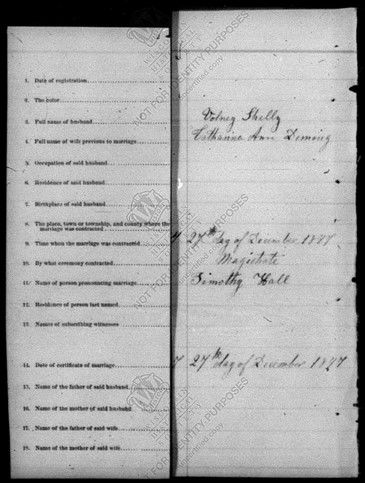 According to census records, Volney continued the family tradition of farming. In 1850, they lived in Brookfield, WI (near Milwaukee). In 1856, Volney received an 80-acre land grant in Center, WI (near Appleton, WI) for helping to clear and fence land for farming.
On 20 Feb 1864, Volney K. Shelley was mustered into Company B of the Wisconsin 14th Infantry Regiment. He served as a Union soldier during the Civil War with the rank of private until he was mustered out on 9 Oct 1865 in Mobile, AL. During that time, his unit participated in the following Civil War battles and movements: The Red River Campaign (10 Mar - 21 May 1864 in Louisiana and Arkansas); Battle of Fort De Russy (14 Mar 1864, Louisiana); Grand Ecore (3 Apr 1864, Louisiana); Battle of Pleasant Hill (12 Apr 1864, Louisiana); About Cloutiersville (22-24 Apr 1864, Louisiana); Wells' Plantation & Boyce's Plantation (6 May 1864, Louisiana); Bayou Boeuf (7 May 1864, Louisiana); Retreat to Morganza (13-20 May 1864, Louisiana); Battle of Mansura (16 May 1864, Louisiana); Moved to Vicksburg, MS (20-24 May 1864); Smith's Expedition to Tupelo, Mississippi (5-21 Jul 1864); Expeditions from Little Rock and Devall's Bluff, to Searcy, Fairview and Augusta in pursuit of Shelby (27 Aug - 6 Sep 1864, Arkansas); March through Arkansas and Missouri in pursuit of Price (17 Sep - 17 Nov 1864); Battle of Nashville (15-16 Dec 1864, Tennessee); pursuit of Hood to the Tennessee River (17-28 Dec 1864); Campaign against Mobile and its Defences (17 Mar - 12 Apr 1865); Siege of Spanish Fort and Fort Blakely (26 Mar - 8 Apr 1865, Alabama); Assault and capture of Fort Blakely (9 April 1865, Alabama); Occupation of Mobile, AL (12 April 1865); March to Montgomery, AL (13-25 Apr 1865); Moved to Mobile, AL (27 Aug 1865).
Draft Enlistment: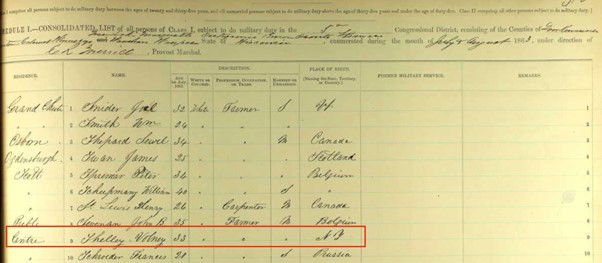 Muster Roll:

Pension index: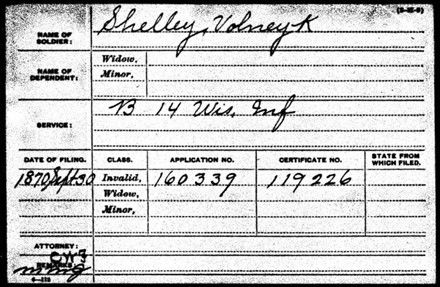 After the war, Volney returned to his wife and family in Royalton, WI (Waupaca County). In 1880, they lived in Mattoon, WI (Shawano County). Mary Shelley, Volney's wife, passed away on 19 Mar 1898 at the age of 67. Volney died of pneumonia in Mattoon, WI on 18 Feb 1906 at the age of 75.
Grave Marker: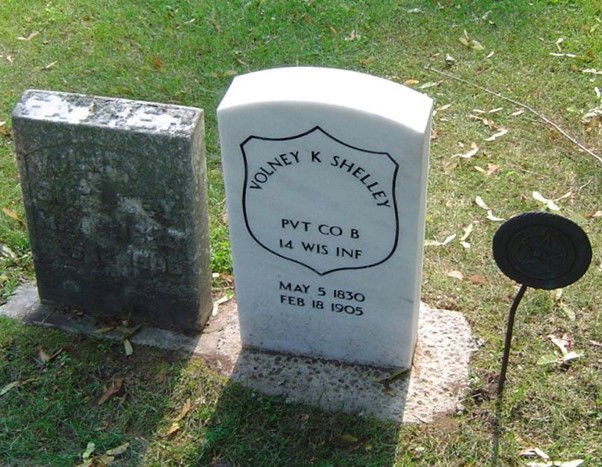 Death Registration: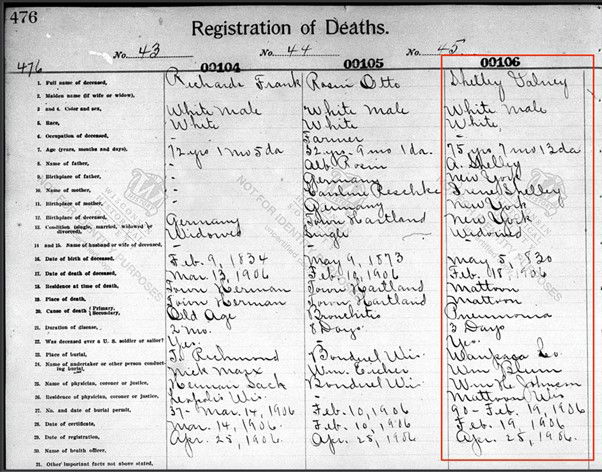 ---
If you think this Union Civil War Veteran might also be in your family tree, please email ancestors@suvpnw.org and we will be happy to put you in contact with the author of this biography.
Notice: The information in the biography above has been researched and provided by the author and has not been verified by the SUVCW or the ASUVCW.