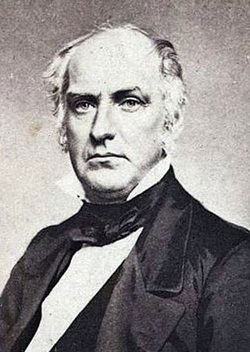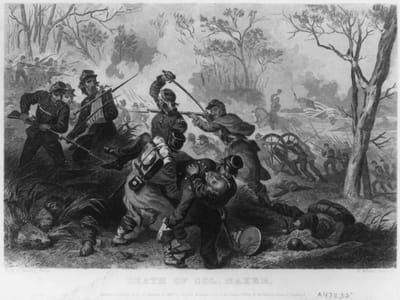 Edward D. Baker (Feb. 24, 1811 - Oct. 21, 1861) is the namesake of our Camp.
Edward Dickinson Baker was born in England, February 24, 1811. He immigrated to the United States in 1815 with his parents, who settled in Philadelphia. They moved to Illinois in 1825. Baker studied law and was admitted to the bar in 1830 and commenced practice in Springfield where he was a close friend of Abraham Lincoln.
Baker was elected as a Whig to the Twenty-ninth Congress and served until his resignation when he was commissioned a colonel in the infantry in the Mexican War. After the war he moved to Galena, Illinois and was again elected to Congress. He moved to San Francisco in 1851 and resumed the practice of law. Baker moved to Salem, Oregon in 1860 where he was elected as a Republican to the U.S. Senate.
While serving as senator from Oregon he raised a Union regiment in New York and Philadelphia. He was offered the rank of general but declined so he wouldn't have to resign his senate seat. Instead Baker was named colonel of the Seventy-first Regiment, Pennsylvania Volunteer Infantry. Sen. Baker was killed in the Battle of Balls Bluff, Virginia, October 21, 1861. Baker City and Baker County, Oregon are named for him.
On May 19th, 2011, Oregon Governor John Kitzhaber signed SB809 into law, designating each February 24th as Edward D Baker Day in Oregon. The Col. Edward D. Baker Camp No. 6, SUVCW provided testimony to both houses of the Oregon Legislature and help obtain a unanimous vote on this issue.
Click here to return to the main Camp page for Col. Edward D. Baker Camp No. 6.