Company B, 71st Pennsylvania Infantry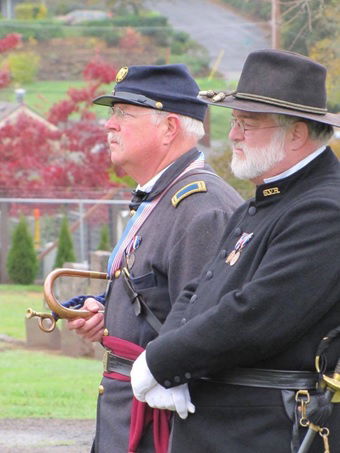 The Sons of Veterans Reserve (SVR) is the authorized ceremonial military component of the Sons of Unions Veterans of the Civil War (SUVCW). The SVR is often called upon to provide a color guard and to render honors at various ceremonies, memorials, and grave dedications for outside organizations and individuals, in addition to SUVCW functions such as Memorial Day and Remembrance Day. While the SVR is subordinate to the SUVCW, each unit maintains its own leadership structure and chain of command independent of any associated SUVCW camp.
The Department of the Columbia lies in SVR Military District Six, which serves Alaska, Arizona, California, Colorado, Hawaii, Idaho, Montana, Nevada, New Mexico, Oklahoma, Oregon, Texas, Utah, Washington and Wyoming.
Company B, 71st Pennsylvania is currently the only SVR unit in the Pacific Northwest. The 71st PA is open to all Brothers of the Order, with primary membership drawn from the Department of the Columbia. The only qualification for SVR membership is that you be a Brother in "Good Standing" of the SUVCW. Company B, 71st Pennsylvania encourages all Department of the Columbia Brothers who are able and willing to participate with the SVR to do so.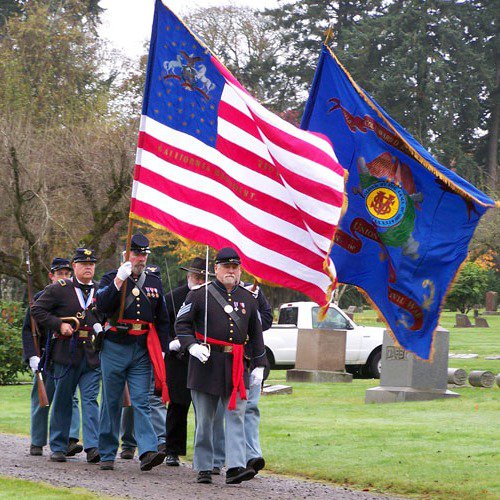 Company B, 71st Pennsylvania Volunteer Infantry, SVR. Its historical namesake was raised by Edward Baker in August 1861 as the 1st California, in spite of the fact that its ranks were filled by men from Philadelphia. Following the death of Colonel Baker at the Battle of Ball's Bluff in October 1861, the State of Pennsylvania claimed the regiment and renamed it the 71st Pennsylvania. The regiment served through the war until after Cold Harbor, when it was mustered out of U.S. service on July 2, 1864.
Co. B, 71st Pennsylvania, SVR adopts 1860's uniforms and military drill and ceremonies for appearances at events. Many aspects of the rituals and ceremonies they perform are rooted in practices established by the Grand Army of the Republic, and likely would be familiar to the veterans they are performed in honor of.
It is commanded by Captain Mark M. Stevens. Together with the hosting SUVCW Camp Officers, outside organizations and individuals, the 71st PA helps coordinate and plan the events the SVR participates in.

If you have an event that you would like to invite Co. B, 71st Pennsylvania to participate in, please contact Capt. Mark Stevens at svr71cmdr@suvpnw.org to see if it can be fit into our calendar.

COMPANY B OFFICERS
| Office | Name | Email |
| --- | --- | --- |
| Commander | Captain Mark Stevens | svr71cmdr@suvpnw.org |
| Chaplain | D. H. Shearer | |
| Public Information Officer | Randy Fletcher | svr71pio@suvpnw.org |

For our library of SVR procedure documents, please visit this page.