Arba Nelson Adams was born on December 8, 1842, in Hyde Park, Vermont. Hyde Park is in north central Vermont in Lamoille County and is north of the Stowe ski area. Hyde Park is quite remote and today only has about 400 citizens. Arba's grandfather Joseph Adams moved the family from Rutland, Massachusetts to Eden, Vermont, just north of Hyde Park, in the early 1800s. Arba was a direct descendant of Henry Adams who emigrated to America in 1638 with his wife Edith and their nine sons and five daughters. They landed in what is now Braintree, Massachusetts only 18 years after the Mayflower landed at Plymouth Rock. Arba's great-grandfather Asa Adams from Medway, Massachusetts had fought in the American Revolution both on the Canadian Expedition of 1776 and on the Rhode Island Campaign of 1778.
On June 3, 1861, 19-year-old Arba enlisted in the Ninth Vermont Volunteers to fight for the Union during the American Civil War. He was mustered into service a year later. Between September 12 and 15, 1862 he fought in the Battle of Harpers Ferry. Major General Thomas J. "Stonewall" Jackson's confederate troops surrounded the fort and drug cannons to the hilltops above it and began bombarding it from three directions. The Union Army of over 12,600 men stationed at Harpers Ferry was commanded by Colonel Dixon S. Miles. Several battles were fought over three days with the Confederates completely outmaneuvering the Union Army. Miles was totally inadequate for the task of commanding his men in a major battle. Colonel Miles was wounded on the morning of September 15th, and there is speculation that this might have been from his own troops because of his lack of leadership and his lack of willingness to fight. Colonel Miles died the next day. The formal surrender of the fort and the troops occurred on September 15th. General Robert E. Lee sent Jackson an urgent message to join him at Sharpsburg so General A. P. Hill was left to manage all the captured munitions and the parole of the Federal prisoners. Because the Confederates had no ability to manage so many prisoners, the 12,419 captured Federal prisoners were each forced to sign a document that indicated that they would not rejoin the Union Army. After signing they were released. Of course, the vast majority of the captured Union soldiers immediately rejoined the fight, as did Arba. On September 11, 1863, Arba was mustered out of the service due to the loss of an eye. It is not recorded how this happened. After his service, he returned to Vermont.
Mary Margaret Bickel (or Bickle) was born on April 12, 1855, in Lake Mills, Wisconsin to George and Catherine Bickel. There is much genealogical confusion about Mary's parents. It seems that Mary's father either died or left. Catherine was then alone raising Mary. Lake Mills is a farming community in Wisconsin between Milwaukee and Madison in southeastern Wisconsin and is only about 140 miles northwest of Chicago. It was first settled in 1837 by Captain Joseph Keyes who built a sawmill and a flour mill on Rock Lake leading to the name "Lake Mills."
After Arba's return to Hyde Park, Vermont he then moved to Portage, Wisconsin to join his uncle, Joseph Curtis Adams to help on his farm. Portage is a small farming community on the Wisconsin River about 40 miles north of Madison and about 55 miles from Lake Mills. Joseph's first wife Nancy Warren had died at their home in Eden, Vermont in 1850 one week after the birth of their fourth child, also named Nancy. After Nancy's death, Joseph moved to Portage and began farming. Between 1855 and 1859, Joseph Adams and Catherine Bickel met, and they were married in March 1859. They then had three children together along with Mary from her previous marriage.
Arba and Mary Bickel were married on November 7, 1869, when Arba was 27 and Mary was 14. In the 1870 census from Portage, Wisconsin, those in the household included Joseph and Catherine Adams, Arba Adams aged 28, Mary now 15 years old, Baker who was 12, Flora who was 9, and Carrie who was 4. These three children were Mary's half-siblings.
Minnie Ruth Adams was born to Arba and Mary on October 3, 1870, in Stockton Wisconsin. Stockton is about 70 miles north of Portage and it may be that Arba and Mary started farming their own place in Stockton or for some other reason. It is assuredly true that Mary was pregnant when the 1870 census was taken.
Sometime in the early 1870s, Arba was encouraged by a friend named Luther Perkins to come to Wallowa County, Oregon to homestead. They knew Luther from Wisconsin, but he had traveled west and settled on Upper Prairie Creek near Joseph, Oregon on property that is now known as the Grant Schaffer place. This remote valley had largely gone unnoticed for over 30 years by those on the Oregon Trail even though the Oregon Trail went directly through La Grande, Oregon, which is only about 45 miles from the mouth of the Wallowa valley. However, entry into the valley is difficult because of a steep incline called the Minam River grade, the river crossing at the confluence of the Minam and Wallowa Rivers, and then the winding, rocky, ten-mile trail up the canyon to the mouth of the Wallowa Valley. It was then another 30 miles up the valley to reach Upper Prairie Creek southeast of Joseph. While the Wallowa Valley seems reasonably flat, the 30 miles from the mouth of the valley to Upper Prairie Creek has an elevation gain from 2,950 feet above sea level to almost 4,500 above sea level, which makes quite a difference in growing seasons and the amount of snow one gets in the winter. The area around Joseph, Oregon is known as the "Little Switzerland" because of the striking resemblance of that area to the alpine mountains and valleys of Switzerland.
In the spring of 1876, my mother Anita Hope Brown Ertle, indicated that Arba, Mary, and their six-year-old daughter Minnie came to La Grande, Oregon by train. That could not be true as the railroad did not make it to La Grande until 1884 when the Oregon Railway and Navigation Company completed their line through La Grande to connect with the Oregon Short Line Railroad at Huntington, Oregon on the Snake River, about 30 miles north of Ontario, Oregon. The closest railroad terminal to La Grande in 1876 was probably at Promontory, Utah where the golden spike was driven at the completion of the first Transcontinental Railroad on May 10, 1869. It may have been that Arba, Mary, and Minnie traveled part of the way to La Grande by train, but it is likely that they rode horses from Promontory or some other point through southern Idaho and into eastern Oregon until they reached La Grande where Arba bought a wagon and team. They ran out of money for supplies, so they charged their groceries on account at Mr. Goodman's store in La Grande. They made the journey into Wallowa County and up Upper Prairie Creek where they made their homestead. This homestead is at 61346 Liberty Road, Joseph, Oregon which includes 156.4 acres of land, 27 acres of which is timber. This homestead remains in the family. The next spring, Arba brought the furs he had trapped over the winter back to La Grande to pay off his account with Mr. Goodman and to buy more supplies for 1877.
The homestead on Upper Prairie Creek was referred to as "the ranch." There are not many details of what happened at the ranch during those early years other than the birth of Roxanna Catherine "Roxie" Adams on October 17, 1884. Roxie was 14 years younger than Minnie, her older sister.
Arba's reputation was that of a very tough man who was easy to anger into a rage and was also known as a very demanding taskmaster. He had lost an eye in the Civil War and he stuttered badly. When people asked his name he would say, "Mmmmy nnnname is Aaarr, Arrrrrr, Aaaarr…Oh hell, just call me Sam." He was known throughout his life as Sam Adams. Arba seemed to stutter a lot less when he was mad and swearing so when he was swearing, it was pretty clear how he felt about the situation.
Arba normally made two trips annually, one in the spring and one in the fall, to La Grande to sell goods and to get supplies. This was a two-day trip by wagon each way. Sometimes it took even longer, depending on the weather and the road conditions. My mother said that on one trip he was traveling with a neighbor, each driving a wagon. They camped for the night in the Wallowa River canyon between the town of Wallowa and the river crossing at the bottom of the Minam grade. They were asleep in their tent when two fellows set upon them and tried to rob them of their furs and money. Arba and his colleague came out blazing with their handguns, driving the bushwhackers off.
In 1886, Arba took a pre-emption right offer on 440 acres on the east side of the Imnaha River, southeast of the town of Imnaha. As the lessee on the land, Arba had the first right to purchase the property if the landowner sold, which the landowner did a few years later and Arba and Mary became the landowners. This land was parts of Sections 25, 26, 35, and 36 of Township 1S, Range 48E, and was located on the ridge east of Imnaha, 18 miles out the Hat Point Road (Fire Road 4240) which leaves from the town of Imnaha. The land was about one mile south of Five Mile Lookout and included the area around Findley Spring. Adams Creek, named for Arba and Mary, dives off the east ridge above the Imnaha River and enters the Imnaha about 9.5 miles south of the town. The headwaters of Adams Creek are near the land they owned.
Arba and Mary began farming both pieces of land even though it took two days to travel between them. Sometime in the late 1880s, Arba hired some men to dig a ditch to take water diverted from a creek to use for flood irrigation on the Imnaha property. Because Arba was terrible to work for, one of the men changed the settings on the device used as a guide to slope the ditch downhill so that water would flow at a gentle rate, usually about two degrees of downhill slope. The worker changed the settings to two degrees of uphill slope. When digging the ditch, it is impossible to tell the difference by eye. When the ditch was complete and water diverted into it, the water did not flow. The workers erupted in laughter and Arba knew he had been had. The device was reset, and they went back and reworked the ditch and got paid for the extra time it took to redo the several hundred yards of the ditch.
Frank Enoch Vaughan, who had participated in the massacre of 31 Chinese miners along the Snake River in 1887, and Minnie Ruth Adams were married on December 23, 1889. Apparently, it didn't bother Minnie or her parents that Frank had taken part in the murder of these Chinese miners and that he had turned state's evidence and testified against his compatriots who had committed the crime with him. Frank and Minnie did stay in Wallowa County for twenty years after they were married. Frank and Minnie had three children: Nellie Ruth born June 11, 1891, in Imnaha; Mildred Ione born January 19, 1893, in Joseph; and Floyd Adams born October 8, 1896, in Imnaha. Sometime shortly after 1910, the family moved to Corning, California.
It is not clear when Harry Hope met Roxie Adams, but it was sometime in 1904 when Harry was 33 and Roxie was 20. Roxie became pregnant and gave birth to Mary Elizabeth Hope on February 10, 1905, and Harry and Roxie were married on February 19, 1905. Roxie had named Harry as the father. Arba did not like Harry one bit. Initially, Roxie refused to leave the ranch and Harry would not live there with Arba so they initially lived apart. For a time, Harry and Roxie moved to the Imnaha where Harry had some land on Freezeout Creek. Norma Ester Hope was born on October 19, 1906, in Joseph, probably at the ranch.
Arba and Mary built a new house at the ranch in 1905 and that house still stands today. This replaced the older cabin. I believe that the barn and granary at the ranch were constructed before the new house, probably in the 1880s or 1890s.
At some point in 1906, Roxie was thrown from a horse and injured her hip, pelvis, or lower spine, or perhaps all three. She was not healing and was subsequently found to be suffering from tuberculosis that had spread to the bones, including her spine (Pott disease). Roxie was not doing well, and Harry wasn't being a particularly good husband or father so Arba and Mary decided to sell their land on the Imnaha and stay at the ranch and help take care of Roxie and their granddaughters. The Imnaha land was sold in November 1907 to Marvin Hotchkiss for $6,000.
Roxie died on March 17, 1909. Roxie was 24 years old. Harry Hope moved back to Baker City. Arba and Mary became the full-time caregivers of Mary and Norma, then aged 4 and 3. Harry Hope subsequently moved to Ohio and started another family.
Norma, or "Auntie" or "Auntie Norma" as we all called her, indicated that by 1910 Arba and Mary did not want to spend the winters at the ranch in Wallowa County because of the cold and the snow. Arba was 68 and Mary was 55 in 1910. They decided to travel each fall by train from La Grande to Corning, California, and spend the winters with Frank and Minnie Vaughan. Auntie didn't like this much as it was quite disruptive to spend about 90% of the school year in California and the other 10% in Oregon. Auntie did vividly recall the eruption of Mount Lassen on May 22, 1915, which they were able to see as they were traveling back to Oregon by train. This was the last large eruption in the Cascades prior to the Mount St. Helens eruption in May 1980.
Arba died on October 17, 1924 at the ranch, from "Angina Pectoris" at the age of 81. His grave is in the Joseph Cemetery in Joseph, Oregon.
Information about his grave can be found here.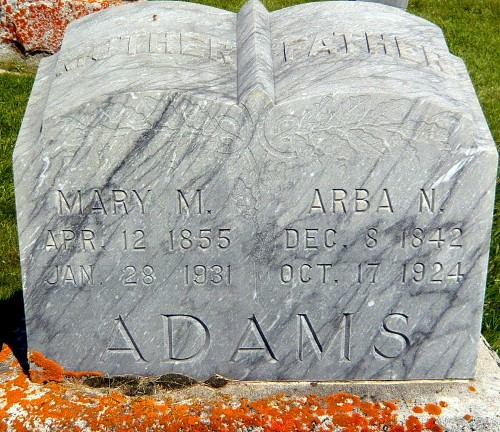 ---
If you think this Union Civil War Veteran might also be in your family tree, please email ancestors@suvpnw.org and we will be happy to put you in contact with the author of this biography.
Notice: The information in the biography above has been researched and provided by the author and has not been verified by the SUVCW or the ASUVCW.