Calvin Latham was the son of Travis Latham and Lucinda (Dulin) Latham and he grew up on family farms in Norwich Township, Franklin County, OH, and in Concord Township, Delaware County, OH. On October 5, 1858, Calvin Latham was married to Carrie A. Smith in Delaware County, OH, said ceremony having been performed by local justice of the peace F. Kinsdric. On March 28, 1864, Calvin enlisted in the 88th Ohio Volunteer Infantry and was assigned to Company F as a private He served with the 88th OVI until the conclusion of the Civil War and was mustered out with his company on July 3, 1865, at Camp Chase in Columbus, OH.
Calvin Latham and Carrie (Smith) Latham reportedly parented seven children between the years of 1859 and 1881: Jeannette Emma Latham, William Kendrick Latham, Harry Smith Latham, Franklin "Frank" White Latham, Edgar "Eddie" Milton Latham, Chauncey (a.k.a. "Chauncy") Shepard Latham, and Gertrude E. Latham.
Following the 1894 death of wife Carrie (Smith) Latham, Calvin Latham was married for a second time to Printha Baker. Following the 1898 death of wife Printha Baker, Calvin Latham was married for a third time on December 24, 1900, to Annie E. Bichard (a.k.a. "Bishard"), said ceremony having been performed by the Rev. Russell B. Pope. Calvin & Annie were married in Annie's hometown of Cambridge, OH, and Calvin spent the remainder of his life there. From 1861 to 1864, Calvin earned a living by clearing ground & cutting cordwood in partnership with another man in Delaware County (By Gene Dulin).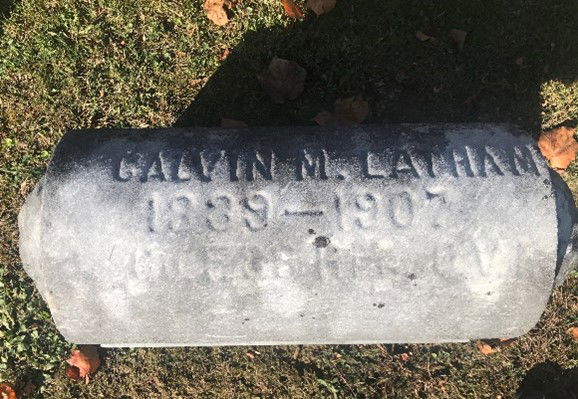 ---
If you think this Union Civil War Veteran might also be in your family tree, please email ancestors@suvpnw.org and we will be happy to put you in contact with the author of this biography.
Notice: The information in the biography above has been researched and provided by the author and has not been verified by the SUVCW or the ASUVCW.