Frederick G. Wilmot (1828-1871) was born on October 2, 1828, likely in Chautauqua County, New York. He was the fifth of nine children born to Asahel C. Wilmot Senior and Phoebe Gardner, and the first son. He married Elvira M. (maiden name unknown) before 1850, likely in New York. The Wilmots moved to Plover with Frederick's sister, Ursula Wilmot Strope, wife of Judge Minor Strope. Fred and Elvira had two children: a daughter Sophie "Phoebe" K Wilmot, born 1852 in Plover, and a son, George O. Wilmot, born 1854 in Plover.
Frederick was a shoemaker when he moved from New York to Plover by 1850, and by 1860, was a hotel / saloon keeper. Fred and Elvira were early proprietors of the Phelps house, the location of the saloon, which they later sold to Henry Curran. The Curran House stood on the northwest corner of Main & First Street (Copps Company site in 1958). An etching on the back cover of Wisconsin Lumberman for April 1873 reveals that it was a three-story building, facing Main Street, with a two-story annex to the west on Main (later raised to three stories) and a two-story annex to the rear believed used for kitchen and service quarters. It was one of the most popular hostelries in the city in the 1870s to 1890s.
Frederick died on May 2, 1871, after being accidentally shot while hunting pigeons in Plover, and is buried in the Plover cemetery.
Frederick was commissioned in Portage County, Wisconsin on September 12, 1861 and mustered on September 21, 1861 as a 2nd Lieutenant in Company B, 14th Regiment Wisconsin Infantry. From his wife's obituary, "Mr. Wilmot went to war as second lieutenant of Company B, Fourteenth Wisconsin Infantry, and the captain being sick and the first lieutenant being killed in the first fire, he commanded the company throughout the Battle of Pittsburg Landing (also known as the Battle of Shiloh). In that fight his company took the brass cannon which now stands on the Capitol Square at Madison, containing the inscription "Captured at the Battle of Shiloh by Company B, Fourteenth Wisconsin Infantry, and spiked by Sergeant Stevens of Company D." After the Battle of Corinth, Lieutenant Wilmot was invalided home."
Lieutenant Wilmot mustered out on April 27, 1862, when his resignation was accepted by General Halleck. In his resignation letter, he referred to his ill health, which the surgeon certified as rendering him incapable of performing his duties any longer. The 14th Wisconsin Volunteer Infantry went on to participate in several campaigns after his resignation, including Champion Hill, Nashville, and the Siege of Vicksburg. In 1864, the volunteer veterans who reenlisted marched to Georgia with the 17th Army Corps in Tennessee and participated in the assault on Kennesaw Mountain, the Battle of Atlanta, and the Battle of Jonesboro. Company B was sent as a pontoon train guard to the sea through the Carolinas to Washington, D.C., rejoining the regiment at Montgomery, Alabama in 1865. The regiment was mustered out on October 9, 1865.
Frederick may have been a member of the G.A.R. in Portage, Wisconsin, but available G.A.R. records in Portage County began in 1883, over a decade after his death. There is a G.A.R. marker at his gravesite in Plover, Wisconsin.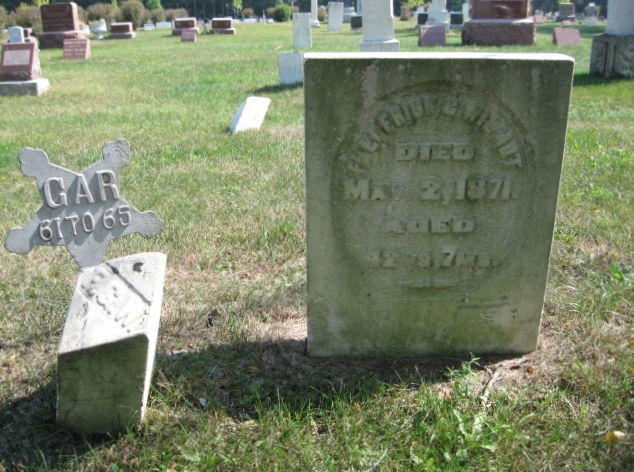 ---
If you think this Union Civil War Veteran might also be in your family tree, please email ancestors@suvpnw.org and we will be happy to put you in contact with the author of this biography.
Notice: The information in the biography above has been researched and provided by the author and has not been verified by the SUVCW or the ASUVCW.