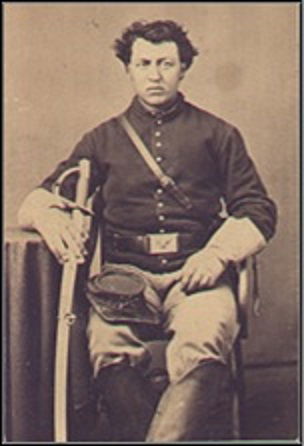 Henry Irving Wilson was born in Madison, Indiana on July 11, 1838; died Bangor, Maine, Feb. 16, 1916, buried in Sangerville, Maine along with several of his family; married June 05, 1875, in Riviere Du Loup, Quebec, to Maria H. Dall, who was born Dec. 20, 1855, at Lake Temiscouata, Province of Quebec, Canada, the daughter of George Dall and Nancy Sleight. She died August 30, 1913, and is also buried in Sangerville, Maine.
He, along with his brother Thomas, enlisted in the Union Army, Company F, 4th Massachusetts Cavalry.
His military record is as follows:
Enlisted, December 29, 1863
Mustered, January 27, 1864
March, 1864, absent with leave
October & November, 1864, absent in base hospital, Point of Rocks, Virginia Dinwiddie Court House, Virginia, two to three months before discharge, thrown from horse and broke collarbone
Mustered out, November 14, 1865
The story came back to the family that Henry was captured and placed in Libby Prison. Since he was stationed at Dinwiddie Court House in Virginia, and Libby Prison is located in Richmond, Virginia, this is certainly possible, but to date is unverified. His Civil War record states that he was "absent with leave", March, 1864. Henry was present for each pay period, every two months, so if he was in prison it was for a short time. He supposedly escaped with his horse, and was later decorated for bravery. Thomas was also supposed to have been wounded in battle, but his military records state that while on guard duty a rifle fell from leaning against a fence, discharged, and shot off his big toe. For this he received disability.
Henry was listed as a shoemaker when he entered the service. Later, he was listed as a machinist, living at Ayer Jct., Mass. He worked for Nurse, Mason & Co., except in 1862, when he worked for Shepard, Lathe & Co. in Worcester. After his discharge from the Army, he moved to Philadelphia and was a machinist for Wood & Co. He came to Greenville in 1866, moved to Kennebec Dam in 1871. In May of 1882 he had an accident in the mill whereby he mangled his right hand and lost fingers. Sam Cole took him to Greenville on the steamer Twilight.
According to the family, Henry contracted tuberculosis and was given a year to live, so he traveled to Maine to become a fur trapper. His journey took him north to Quebec, specifically to the Gaspé and the north shore thereof, where he met his future wife. He returned with her to Moosehead Lake, and took over duties at a mill at East Outlet, which had a curse put on it due the drowning of the previous three operators.
After a short time, Henry came into possession of a large building at the head of the lake, some 20 or more miles north, floated it down the lake to the East Outlet, and set up what was then called Wilson's Tavern. It eventually became a hotel, to which were added cottages and other outbuildings, and was operated as a sporting resort by four generations of the Wilson family for 109 years.
Thomas Henry Wilson., born Worcester Massachusetts, March 15, 1845; died San Francisco, California, Nov. 22, 1930; married (1) Mary Green, died San Francisco, Nov. 22, 1894; and (2) San Francisco, Dec. 25, 1895, Josephine Thetherman. In the 1880 census he is listed as single, living in San Francisco, operating a cigar stand; listed in 1930 census.
Thomas was a private in the Union Army during the Civil War along with his brother Henry, and a member of Company F, 4th Massachusetts Cavalry. He was listed as a blacksmith when he enlisted on January 04, 1864 as a recruit to serve three years, but was discharged on June 29, 1865 as a result of a wound in the left foot, which caused amputation of his little toe. He suffered the wound in the line of duty on October 04, 1864, before the battle of Richmond. Listed as distinguished service.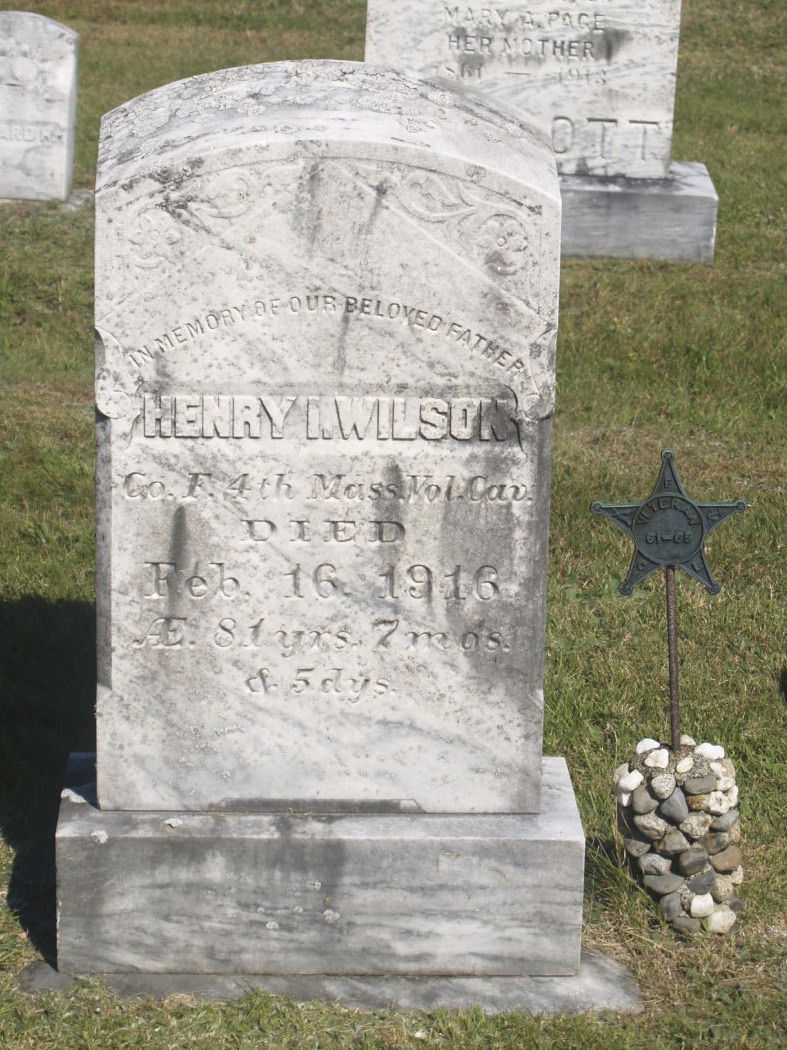 ---
If you think this Union Civil War Veteran might also be in your family tree, please email ancestors@suvpnw.org and we will be happy to put you in contact with the author of this biography.
Notice: The information in the biography above has been researched and provided by the author and has not been verified by the SUVCW or the ASUVCW.