Max Miller was born in the Alsace-Lorraine which was formally part of France. He married Rosa Miller of Alsace-Lorraine. They moved to Columbus County, Franklin, Ohio where he decided to serve in the Civil War.
They had four children, John B Miller, Rosa Miller Laudenslager, Charlotte Miller Dierdorff and Francis Joseph Miller. His daughter, Charlotte Miller Dierdorff married Henry Beecher Dierdorff, an inventor of mining equipment. While an engineer with Jeffery Mining and Manufacturing Company of Columbus, Dierdorff gained fame with his development of densely packed insulation used to suppress sparking around electric motor housings. This insulation allowed for the first safe electric seam cutting tool in underground mining. Dierdorff is also noted for his development of reliable electrical power systems used to deliver electricity to miners underground.
Max Miller served in the 37th Regiment, Ohio Volunteer Infantry, Company K, and the 2nd Battalion Veterans Reserves Corps.
Battles include:
Princeton W, VA May 15-18, 1862; Wyoming C. H. W. VA August 5, 1862; Fayetteville W. VA Sept 10, 1862; Cotton Hill W. VA Sept 11, 1862; Vicksburg Miss. (Siege and Assault) May 18 to July 4 1863
(Ohio Official Roster - 37th Regiment, Ohio Volunteer Infantry)
He his buried at the Mount Calvary Cemetery in Columbus, Franklin County, Ohio.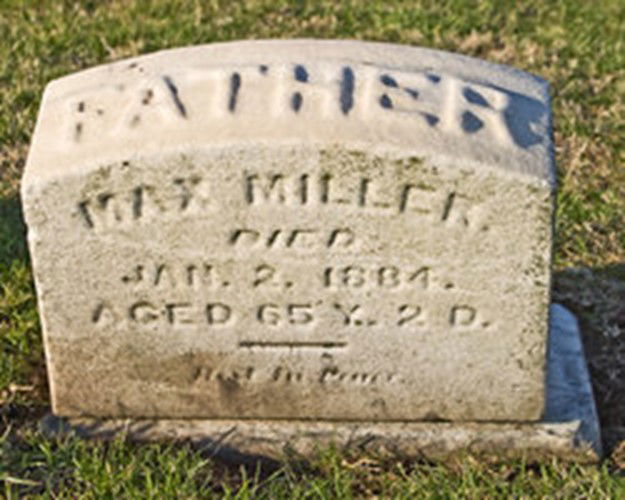 ---
If you think this Union Civil War Veteran might also be in your family tree, please email ancestors@suvpnw.org and we will be happy to put you in contact with the author of this biography.
Notice: The information in the biography above has been researched and provided by the author and has not been verified by the SUVCW or the ASUVCW.