Like so many countless others in our great country we all live in today, I too have great appreciation for those who lived before us, especially those entities and my ancestors that would hear the call to service. Identical to so many of you who will read this short biography of my 3rd Great Grandfather, Nathan Davis, you will be able to identify with a comparable pride I feel about his past service in Union Army and exclusively to the United States. Just like your Union ancestors, we all share an assurance of knowing these men made a difference in the country we now live in. I believe we are the lucky ones because we know where we come from and sacrifices, they had made. Today, we employ the freedoms they preserved and freedoms they created by bringing the Union back together. Based on that fact alone, I'm proud to write an excerpt of my ancestor's life, focusing on his brief but honorable service with the Indiana 118th Regiment.
Nathan Davis was born in Wabash, Indiana in 1843. Prior to the war, he would not journey very far from his state of birth. From scouring through his records and family archives, I believe my ancestor worked as a coal miner in Wabash County, Indiana, prior to the war. At that time, he was not yet married to my 3rd Great Grandmother; they would later meet after the war. In 1863, now with the war in its second year, my ancestor would make a pledge that would change his life. At the age of 20 years old, he would elect to enlist and help support this boundless war struggle that had now encircled the country, including Indiana. He would journey to Indianapolis on September 2nd, 1863, to sign his paperwork and contract for service. He would be given the rank of Sergeant and be assigned to Captain Caldrens' K Company of the 118th Indiana Infantry Regiment out of Wabash, Indiana.
The so-called "Battle of Cumberland Gap" would actually turn out to be more of a series of small skirmishes rather than a battle according to many historians who have studied this episode. The Cumberland Gap has been a primary route since the beginning of this country, separating Southwestern Virginia from Eastern Kentucky. The placement of the Cumberland Gap makes this area of critical importance to any military force that controlled it. The Union Generals strongly believed Cumberland Gap could be launching point to conquer East Tennessee. In late September, the 118th including Company K, which included my 3rd Great Grandfather would see his first action of the war. Luckily for him, and others, the Confederate Forces would mostly surrender without categorically firing on the Union forces. This capture would be a significant victory because it would lead to the eventual invasion of East Tennessee. The regiment would later be moved to Morristown and Greenville that November. The regiment would finally see some considerable action in the "Battle of Walkers Ford." in East Tennessee. The mission was to Support the 5th Indiana Cavalry at the Clinch River. The Indiana 118th Regiment would fully engage a large confederate force of both Confederate infantry and cavalry. The infantry regiment would be instrumental in saving the 5th Indiana Calvary regiment, even though they were short on ammunition, tired and in most cases exhausted. This regiment was conjointly credited for holding off the enemy long enough for a full tactical withdrawal of the 5th Indiana Calvary Regiment saving many Unions lives that day. The 118th was also credited for repelling the enemy at every turn. These dual incidents which included the Cumberland Gap would be instrumental in furthering the Union cause at this point in the war. My 3rd Great Grandfather, like many of his cohorts, distinguished themselves those few days. Overall, I wonder sometimes if he stood above the rest of his company that day, nevertheless just being there says a lot on who he was I believe.
The end of my ancestor's contract would come to an end with Company K on March 3rd, 1864 in Indianapolis. He would later join an Illinois Cavalry regiment to continue fighting this war. He goes on to distinguish himself once again by serving his new regiment bravely, however that will be another chapter I will add at a later time when more information can be found. Nathan Davis would survive the war and later marry my 3rd Great Grandmother; they would have many children. He would return to mining and continue his past occupation, eventually ending up in California. Nathan Davis would live a full life and was buried in a military cemetery in Yountville, Napa County, September 13, 1929.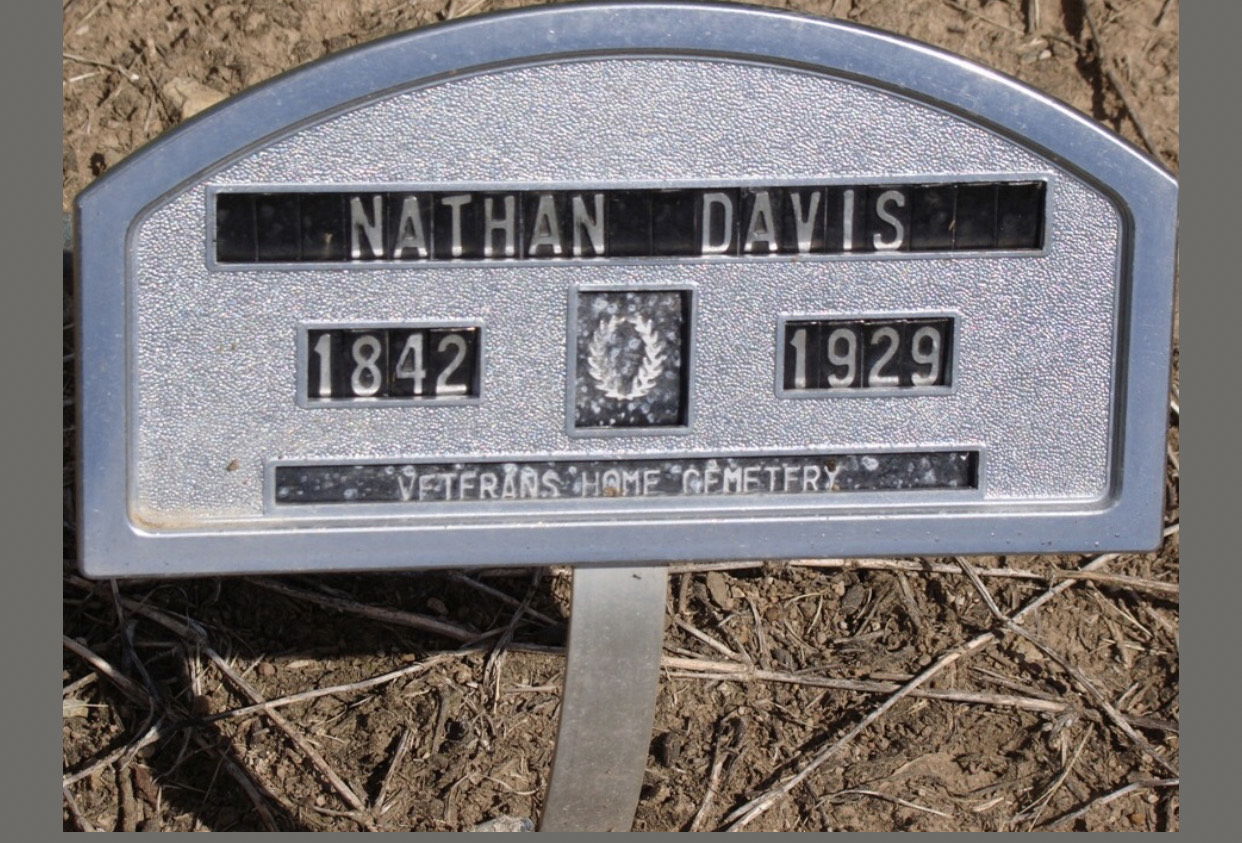 Bibliography
Civilwar.vt.edu. 2021. Cumberland Gap – Virginia Center for Civil War Studies. [online] Available at: <https://www.civilwar.vt.edu/wordpress/cumberland-gap/> [Accessed 23 September 2021].
Davis, N., 1929. Application for Head Stone. [Document] National Archives, War Department form 633. Washington DC.2021. Nathan Davis K company 118th Indiana Infantry. [Form 86 Military Service Record] National archives, Civil War. Washington DC.1908.
"The Union Army". 3rd ed. Federal Publishing Company.
---
If you think this Union Civil War Veteran might also be in your family tree, please email ancestors@suvpnw.org and we will be happy to put you in contact with the author of this biography.
Notice: The information in the biography above has been researched and provided by the author and has not been verified by the SUVCW or the ASUVCW.