Williard (a.k.a. "Willard") Smith Latham was the son of Travis Latham and Lucinda E. (Dulin) Latham and he grew up on family farms in Franklin County, OH. Williard was recorded on the 1860 Federal Census as "Smith Latham" living in the household of his younger brother Calvin M. Latham in Liberty Township, Delaware County, OH. On June 29, 1863.
Williard enlisted in the 4th Ohio Independent Battalion Cavalry at Columbus, OH, for a term of six months. The unit was subsequently reorganized to become Company A of the 5th Ohio Independent Cavalry. The regiment was deployed to Flemingsburg, KY, where it saw service during skirmishes against Confederate raiders in Morgan County, KY, and near the town of Liberty, KY. On February 15, 1864, Williard was mustered out with his company (A) at Cincinnati, OH.
After which time, he was married to Eliza Chrysler. The couple then moved to Kansas and were recorded on the 1880 Federal Census living in the town of Belleville in Republic County where Williard listed his occupation as "farmer."
On May 25, 1888, Williard was married for a second time to Margaret A. Davis. That ceremony was conducted by Justice of the Peace L. B. Willard in the town of Greeley, Weld County, CO. In about 1892 Williard returned to Columbus, OH, and took up residence at 327 East Main Street. When it was discovered in 2008 that Williard had no tombstone, arrangements were made through Greenlawn Cemetery to procure a government military marker for him. The marker now there was placed in June of 2009. (By Gene Dulin)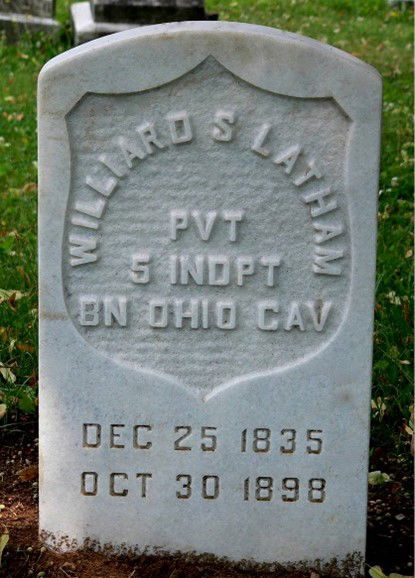 ---
If you think this Union Civil War Veteran might also be in your family tree, please email ancestors@suvpnw.org and we will be happy to put you in contact with the author of this biography.
Notice: The information in the biography above has been researched and provided by the author and has not been verified by the SUVCW or the ASUVCW.