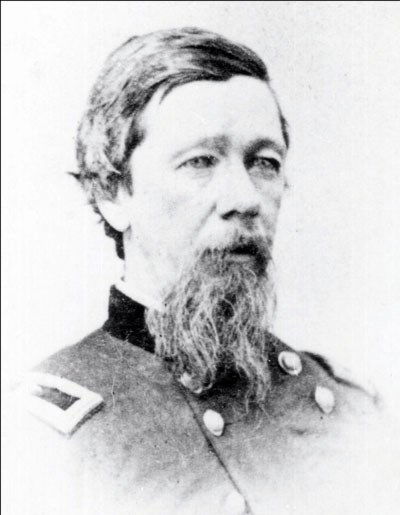 Alfred Sully Post No. 3 was based in Dayton, Columbia County, Washington. The map at the bottom of the page shows the exact location.
Alfred Sully was born in Philadelphia, Pennsylvania on May 22, 1820. Sully, like his father, was an accomplished watercolor and oil painter. In 1841 he graduated from the United States Military Academy at West Point, New York. During and after the Civil War, Sully served in the Plains States and was widely regarded as a successful "Indian fighter". From 1849 to 1853, he was chief quartermaster of the U.S. troops at Monterey, California, after California came under American jurisdiction.
First stationed at the Washington, D.C. defenses at the beginning of the Civil War (June 1861) as a captain, Sully led a company of soldiers to St. Joseph, Missouri, to quell a secessionist uprising. Sully was later transferred west to aid in the aftermath of the Dakota War, and was commissioned colonel of the 1st Minnesota Infantry on March 4, 1862. He served in that rank until promoted to brigadier general on September 26, 1862. He directed brigades at the Battles of Fredericksburg and Chancellorsville. Shortly after the Battle of Chancellorsville, Sully was assigned to the command of the District of Dakota, where he executed a number of successful forays against hostile Sioux in Minnesota and Dakota Territory. Toward the end of the Civil War, he was brevetted to major general of volunteers and brigadier general, U.S. Army.
After the war, Sully reverted to his regular rank of major of infantry, but was soon advanced to lieutenant colonel. In1869, he was appointed Superintendent of Indian Affairs for Montana Territory, and promoted to colonel of the 21st U.S. Infantry in December 1873. During the last years of his life, Sully was in command of Fort Vancouver in Washington Territory. While stationed there, he suffered an aortic hemorrhage and died on April 27, 1879. Brigadier General Sully is buried at Laurel Hill Cemetery in Philadelphia, Pennsylvania.
The Post was mustered in on 27 January 1881 with twelve charter members; it surrendered its first charter after about five months; it was reorganized 15 November 1882 with twenty-five charter members. This Post was associated with Alfred Sully Corps No. 7, Woman's Relief Corps (WRC).