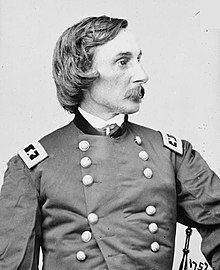 Gen. Warren Post No. 28 was based in Walla Walla, Walla Walla County, WA. The map at the bottom of the page shows the exact location.
The post's namesake was Gouverneur Kemble Warren (1830-1882). Warren was born in Cold Spring, Putnam County, New York on January 8, 1830. At age 16, Warren attended the United States Military Academy at West Point, New York, and graduated in 1850, 2nd in his class of 44 cadets. From his graduation at West Point until the start of the Civil War, Kemble served with the U.S. Army Corps of Topographical Engineers and taught mathematics at West Point.
On May 14, 1861 Warren was appointed lieutenant colonel of the 5th New York Infantry. On June 10 of that year, he fought in the first land battle in Virginia at Bethel Church. He was made colonel of the regiment on September 11, 1861. Warren was wounded at the Battle of Gaines's Mill, fought on June 27, 1862. He commanded a brigade at Second Bull Run in August and at Antietam in September 1862. He was promoted to brigadier general of volunteers on September 26, 1862, and major general on August 8 to rank from May 3. He is best remembered for arranging the last-minute defense of Little Round Top during the Battle of Gettysburg in 1863. Warren commanded the II Corps from August 1863 until March 1864, replacing the wounded Maj. Gen. Winfield S. Hancock, and distinguishing himself at the Battle of Bristoe Station. In April of 1865, at the Battle of Five Forks, Major General Philip Sheridan was greatly angered by what he perceived as Warren moving his Corps too slowly, and relieved him of command on the spot.
His career tarnished, Warren resigned his commission as major general of volunteers in protest on May 27, 1865, reverting to his permanent rank as major in the Corps of Engineers. He served as an engineer for 17 years, building railroads, with assignments along the Mississippi River, achieving the rank of lieutenant colonel in 1879. That same year a board of inquiry exonerated Warren completely of culpability at Five Forks and criticized the manner in which he was relieved of command. Warren's last assignment in the Army was as district engineer for Newport, Newport County, Rhode Island, where he died in August 1882. He was buried at Island Cemetery in Newport, Rhode Island.
Gen. Warren Post No. 28 of Walla Walla was mustered in on 12 June 1886. The charter was surrendered in late 1888 or early 1889 with 22 members on the roll.
Comrades
Post Commanders
| | |
| --- | --- |
| 1886 | Nathan Pierce |
| 1887 | William J. Drumhiller |
| 1888 | Alfred Noack |
1888 Post Officers
| | |
| --- | --- |
| Commander | Alfred Noack |
| Senior Vice Commander | Jasper Cox |
| Junior Vice Commander | John W. Brock |
| Adjutant | Joseph H. Paul |
| Quartermaster | Edward Herbert Nixon |
| Officer of the Day | George W. Bowers |
| Officer of the Guard | James W. Bailey |
| Surgeon | Henry C. Sniff |
| Chaplain | Henry Brown |
Abbreviations used above: "Bty." is short for "Battery". "Co." is short for "Company". "F&S" is short for "Field and Staff".
Note: This is not a complete cumulative roster of the Comrades (members) of this Post. As additional Comrades are identified, they will be added.
If you find someone on this list who would qualify you for membership in one of our Camps or Auxiliaries, we have the documentation of his honorable service to the Union on file.
Membership inquiries can be directed to join@suvpnw.org and we will help you.