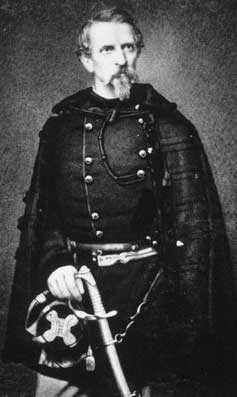 Phil Kearney Post No. 3 was based in Toledo, Lewis County, Washington. The map at the bottom of the page shows the exact location.
The Post namesake is Major General Philip Kearney (1815-1862), whose last name is most often spelled "Kearny". Philip Kearny, Jr. was born in New York City, New York on June 2, 1815. He was the nephew of General Stephen W. Kearny of Mexican War fame. He graduated from Columbia University in 1833 with a law degree. In 1836, after receiving a large inheritance from his grandfather, Kearny abandoned his law career to make the army his profession. The following year he obtained a commission as a 2nd lieutenant in his uncle's regiment, the 1st Dragoons. In 1839 he attended the French Cavalry School at Saumur, France. In 1840 Kearny saw action in Algiers with the Chasseurs d'Afrique, a light cavalry corps in the French Army of Africa. After returning to the United States in 1840, he served as an aide-de-camp to Generals Alexander Macomb and Winfield Scott. Kearny resigned his commission in 1846, but returned to duty a month later at the outbreak of the Mexican War. He was promoted to Captain in December of 1846. In August 1847, at the Battle of Churubusco, Kearny's left arm was shattered by grapeshot and had to be amputated. For his gallantry he was brevetted major.
Kearny resigned from the army in 1851 and spent the next several years travelling. When the Civil War broke out ten years later Kearny offered his services. He was one of the first brigadier generals of volunteers appointed (August 7 to rank from May 17, 1861) and commanded the 1st New Jersey Brigade. He received command of the 3rd Division of the III Corps on April 30, 1862 and led the division into action at the Battles of Williamsburg and Fair Oaks. At Williamsburg, as he led his troops onto the field, Kearny shouted (in a notable quote), "I'm a one-armed Jersey son-of-a-gun, follow me!" Kearny was promoted to major general July 4, 1862. On September 1, 1862, during a violent storm at the Battle of Chantilly, Virginia he inadvertently rode into Confederate lines. He ignored a command to surrender and was shot and killed instantly as he tried to escape.
Under a flag of truce, Robert E. Lee returned Kearny's remains to Union forces. Major General Philip Kearny, Jr. was laid to rest in Trinity Churchyard in New York City. In 1912 his remains were reinterred at Arlington National Cemetery in Arlington, Virginia.
The Post was organized in 1881. The charter was surrendered in March 1929. The last two members of the Post were R. L. Calvin and John A. Shultz, who reportedly surrendered the Post charter about 18 March 1929, and turned the Post equipment over to the local American Legion Post. This Post was associated with Phil Kearney Corps No. 6, Woman's Relief Corps (WRC) which was installed on 1 May 1886.