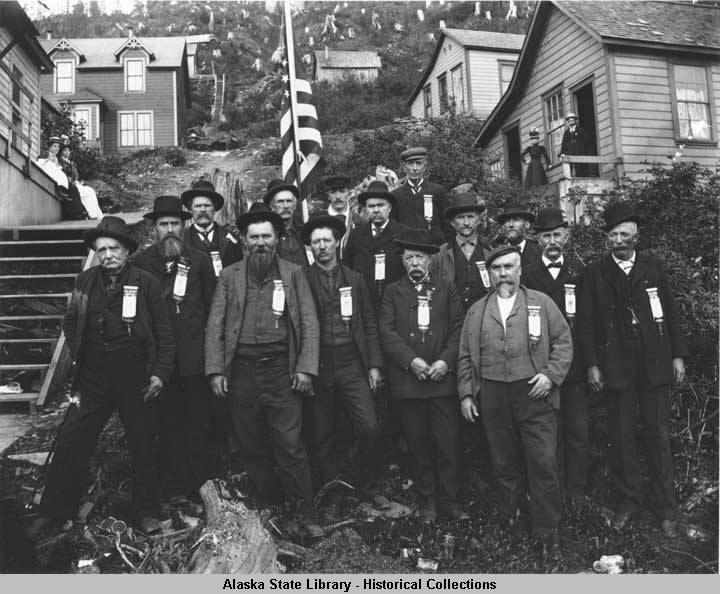 (Photo courtesy Alaska State Library)
W. H. Seward Post No. 36 was based in Juneau, Alaska. The map at the bottom of the page shows the exact location.
Its namesake is William Henry Seward (1801-1872), who was U.S. Secretary of State during the Civil War and Reconstruction. He was instrumental in negotiating the Alaska Purchase in 1867.
The application to form this Post was originally received by the Department of California. It was forwarded to national headquarters, where the decision was made to attach Alaska to the Department of Washington. The Post was never mustered under its original charter, owing to the fact that by the time the charter arrived, most of the applicants had scattered. A new application was made in 1889 and a new charter granted. The post was organized in 1887, and mustered in 19 October 1889 with thirteen charter members.
Comrades
Abbreviations used above: "Bty." is short for "Battery". "Co." is short for "Company". "F&S" is short for "Field and Staff".
Note: This is not a complete cumulative roster of the Comrades (members) of this Post. As additional Comrades are identified, they will be added.
If you find someone on this list who would qualify you for membership in one of our Camps or Auxiliaries, we have the documentation of his honorable service to the Union on file.
Membership inquiries can be directed to join@suvpnw.org and we will help you.