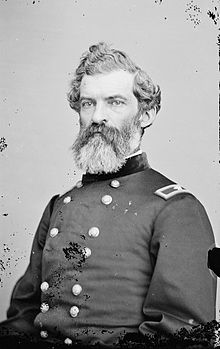 John Wilson Sprague was born in White Creek, Washington County, New York, on April 4, 1817. He attended local district schools and at age 13 he entered Rensselaer Polytechnic Institute in nearby Troy, Rensselaer County, New York. (Sources disagree as to whether or not he graduated.) When he was 23, Sprague and a partner started Wallace & Sprague, a wholesale and retail grocery business in Troy. In 1843 he married Lucy Wright, the daughter of a Huron County, Ohio judge. Lucy Sprague died in Troy, New York, in May 1844, not long after giving birth to a daughter.
In 1845 Sprague moved to Huron, Erie County, Ohio, where he worked as a merchant. He then settled in Sandusky, Ohio and served in 1851 and 1852 as the Erie County treasurer. In the late 1850s he organized and equipped a line of sailboats and steamers for traffic on Lake Erie and was engaged in that business when the Civil War erupted. While in Sandusky, Sprague remarried, to Julia F. Choate, and before the decade was out, they had four sons. The couple also had two daughters, but both died in infancy.
On April 25, 1861, at the beginning of the Civil War, John Wilson Sprague joined the 7th Ohio Infantry and was made a captain in the unit's Company E. In August 1861, while heading home on leave, he and a small group of other Ohio soldiers were captured in West Virginia by Confederate troops. He was held at the infamous Libby Prison in Virginia, and then moved to South Carolina where he was held in Charleston and then Columbia. After five months, Sprague was released as part of a prisoner exchange in January 1862. He returned to duty with the Ohio 63rd Infantry Regiment. On January 23, 1862, he was promoted to colonel. Sprague led the regiment at the Siege of Corinth.
For the next several months, Sprague took part in the army's general operations in northern Alabama and Mississippi, and Tennessee. He participated in the Vicksburg Campaign in early and mid-1863. During the 1864 Atlanta Campaign, Sprague was in command of the 2nd Brigade, 4th Division of the XVI Army Corps. At the Battle of Atlanta on July 22, 1864, near Decatur, Georgia, he masterfully conducted a delaying action under heavy enemy fire and received praise from his superiors. With only a small command, he defeated an overwhelming Confederate force and saved the corps' ordnance and supply trains. He was promoted to brigadier general on July 30, 1864. Sprague accompanied Sherman in his "March to the Sea" and was brevetted major general of volunteers to rank from March 13, 1865. From April 1865 until September 1866, Sprague was the assistant commissioner of the Freedmen's Bureau for the district of Arkansas. He was in charge of operations in Missouri, Kansas, and subsequently the Indian Territory. In September 1865, he declined a lieutenant-colonelcy in the Regular Army and mustered out of the service.
After the war Sprague began a career in railway construction. He was appointed as the manager of the Winona and St. Paul Railway in Minnesota. In 1870 he became the general manager of the Western Division of the Northern Pacific Railway and helped establish the city of Tacoma, Pierce County, Washington. Sprague served as the town's first mayor, became prominent in its financial circles, and was president of the National Bank, Tacoma Chamber of Commerce, and the Tacoma Steam Navigation Company. His second wife Julia died in 1886. He married Abigail Choate in 1890. On January 14, 1893, while Sprague was still living, a Tacoma ordinance named Sprague Avenue, a major arterial in the city, in his honor.
Sprague joined George H. Thomas Post No. 5 of the G.A.R. in Olympia, Thurston County, Washington on April 13. 1881 as one of the 14 charter members. He later transferred to Custer Post No. 6 of Tacoma, Pierce County, Washington, where he served as Post Commander in 1887. The next year he was elected, unopposed, as Commander of the Department of Washington Territory (1888-89). The Gen. John W. Sprague Camp No. 4 of the Sons of Veterans of the United States of America (today Sons of Union Veterans of the Civil War) was named in Sprague's honor.
Sprague's last years were plagued by ill health. He died of heart failure in his Tacoma home on December 24, 1893. Three weeks after his death, on January 18, 1894, he was awarded the Congressional Medal of Honor for his actions and extraordinary heroism at Decatur, Georgia. The citation reads, "With a small command Colonel Sprague defeated an overwhelming force of the enemy and saved the trains of the corps". Major General Sprague was the first Medal of Honor Recipient to be buried in Washington state. On April 27, 2002, a Medal of Honor gravestone was added to his grave at the Tacoma Cemetery in Tacoma, Washington.
More information about his grave can be found here.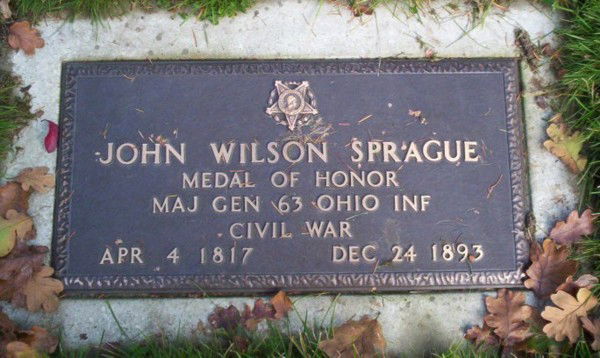 Image taken on October 23, 2004 by Loretta-Marie Dimond and used with her permission. All rights reserved.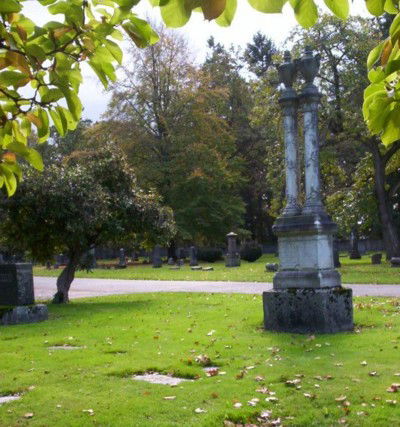 Image taken on October 23, 2004 by Loretta-Marie Dimond and used with her permission. All rights reserved.