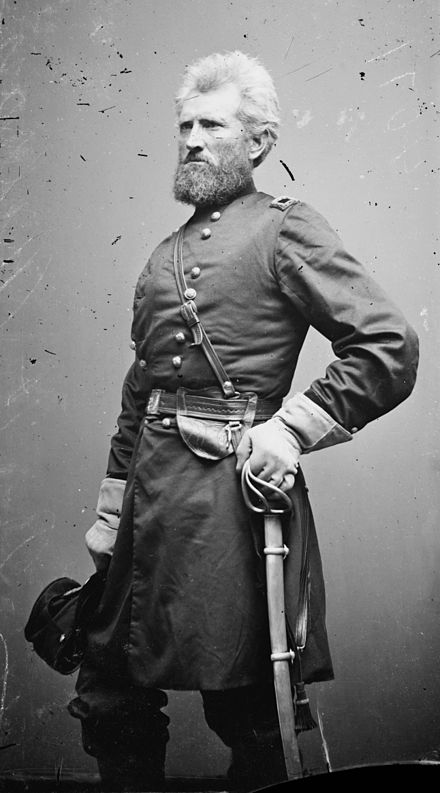 Robert Huston Milroy was born in Salem, Washington County, Indiana, on June 11, 1816, the same year the state entered the Union. Born into a military family, he was the son of Major General Samuel Milroy and his second wife, Martha Patsy Huston. His father served with distinction in the Indiana militia during the War of 1812. In 1826 the family relocated to Delphi, Carroll County, Indiana where the elder Milroy took up farming.
Milroy's father had a strong aversion to higher education and opposed his son's desire to attend the military academy at West Point. In 1840, without informing his father, Milroy enrolled at the American Literary, Scientific, and Military Academy at Norwich, Vermont, today known as Norwich University. He received degrees of Bachelor of Arts and Master of Military Science and graduated first in his class. Unsuccessful in obtaining a commission in the U.S. Army, he returned to Indiana in 1844 to attend law school at the University of Indiana at Bloomington. He interrupted his legal studies twice for military pursuits, first in Texas and then in the Mexican War, serving as Captain in the First Indiana Infantry in 1846-1847. After the war ended, he resumed his law studies, graduating in 1850. He was then admitted to the bar and served at the Constitutional Convention of 1850. He quickly became an ardent Republican and abolitionist when the party rose to national prominence in the 1850s. The governor of Indiana appointed Milroy President Judge of the Eighth Judicial District in 1852. Two years later, he resigned and moved to Rensselaer, Indiana, where he established a law practice lasting until the outbreak of the Civil War.
On May 17, 1849, Robert Milroy married Mary J. Armitage in Carroll County, Indiana. Mary Armitage was the daughter of Valerius Armitage, a major contractor in the construction of the Wabash and Erie Canal. They had seven children. Sons Bruce and Walter practiced together as attorneys in the North Yakima, Washington Territory, firm of Milroy, Irwin and Milroy.
On April 23, 1861, shortly after the start of the Civil War, Milroy was commissioned captain of the 9th Indiana Infantry (a 3-month unit, reenlisting for three years after the expiration of its original term of service). Four days later he was unanimously elected colonel. In the first months of the war, he served under General George B. McClellan in the western Virginia Campaign. Following the Virginia Campaign, he was promoted to brigadier general on September 3, 1861, and major general on March 10, 1863, to rank from November 29, 1862. After his promotion, he participated in the Shenandoah Valley Campaign of 1862 against Confederate General Thomas "Stonewall" Jackson, and commanded forces at the Battle of McDowell in western Virginia. During the battle, he was able to surprise Jackson's forces and had early success. However, by nightfall, weary and short of ammunition, he was forced to withdraw his brigades. In August of 1862 he commanded a brigade of the Army of Virginia under General John Pope at the Battle of Second Bull Run. From February until June of 1863, Milroy commanded the 2nd Division of the VIII Corps. During the Battle of Second Winchester, Milroy was defeated after he decided not to withdraw from Winchester, thinking that the fortification the town offered could withstand a Confederate attack. His assessment proved incorrect and his forces were overwhelmed by the 2nd Corps of the Army of Northern Virginia. Although Milroy and much of his staff escaped, Confederate forces captured 3,400 of his men, as well as all of his artillery and supply wagons. Milroy was removed from command and brought up before a court of inquiry. He was not found guilty of any major wrong-doing. He remained inactive for a length of time until he was transferred to the Western Theater in the spring of 1864. He served under General George Henry Thomas, recruiting soldiers for his army. For a short time, he commanded troops during the Nashville Campaign. In this capacity, he led Union troops to victory at the Third Battle of Murfreesboro in December of 1864. Effective in the field, Milroy's performance was later complimented by his superior, Major General Lovell Rousseau. Milroy remained in the west for the remainder of the war. He resigned his commission on July 26, 1865.
After the war, Milroy served as a trustee of the Wabash and Erie Canal Company. From 1872 to 1875, he served as Superintendent of Indian Affairs in Washington Territory, and served as an Indian agent for the next ten years. He joined George H. Thomas Post No. 5 of the G. A. R. in Olympia, Thurston County, Washington on May 4, 1887 and served the Post in following positions: Junior Vice Commander (1888) and Senior Vice Commander (1889). He passed away of heart failure in Olympia, Washington, on March 29, 1890. Upon his passing, Milroy's G. A. R. comrades proclaimed, "The Grand Army of the Republic has lost one of its greatest heroes and the country one of its noblest patriots". He is the namesake of Gen. Milroy Post No. 62 originally located at Latah, Spokane County, Washington, later relocated to Tekoa, Whitman County, Washington.
Major General Milroy is buried at Masonic Memorial Park in Tumwater, Thurston County, Washington. More information about his grave can be found here.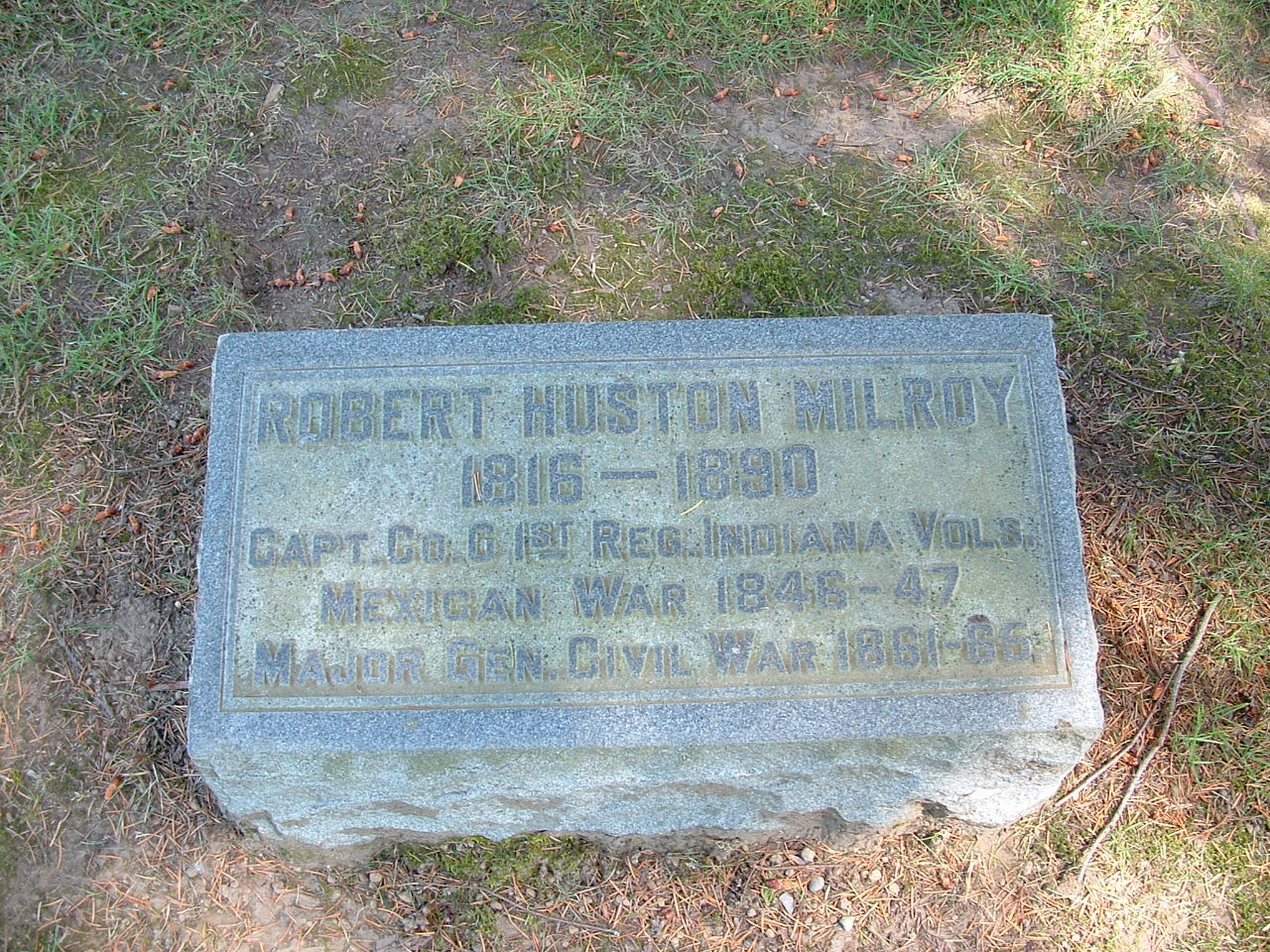 Image taken May 7th, 2016 by Loretta-Marie Dimond and used with her permission. All rights reserved.